Somewhere off the coast of Australia, there's a tiny fish trying to swim through a jellyfish.
A viral photo re-posted today (June 7) to Instagram by Tim Samuel, an Australian photographer, has made this underwater drama world-famous. Samuel and colleague Franny Plumridge encountered the scene while snorkeling in Byron Bay: A fish that appeared to have lodged itself under a jellyfish's transparent cap.
Samuel told Australian Geographic that although the fish kept wriggling, it seemed stuck inside the jellyfish and ended up swimming in circles.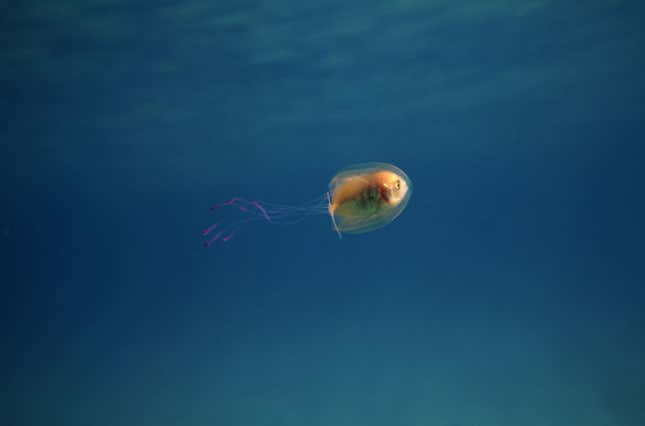 "It's difficult to tell whether disaster has just struck, or whether the fish is happy to be in there," Ian Tibbetts, a marine biologist at the University of Queensland, told Australian Geographic. Tibbetts said he suspects that the fish is a young trevally trying to hide among the jellyfish's stingers. So whether trapped or not, at least he's protected from larger predators for the time being.
Samuels says he spent about a half hour following the pair through open water, but left them alone after snapping a few photos. The original shot was posted to his Instagram about six months ago.
"I definitely thought about setting it free," he told CNN. "But in the end decided to just let nature run its course."