Warcraft, the film adaption of the popular video game, hit China's big screens Wednesday (June 8) to earn an estimated $8.4 million in midnight screenings, breaking the all-time midnight record in the world's second largest film market.
The previous record was set last year by the action movie Furious 7, which ranks among the top-grossing films of all time in China, according to Chinese Film Insider. As of Wednesday afternoon, Warcraft has already amassed more than 200 million yuan ($30 million) in gross, or 90% of China's box office of the day, according to data from EntGroup. By comparison, Warcraft's offshore box office by last Sunday was estimated at $70 million. The movie is to hit US theaters on Friday.
Warcraft: The Beginning is co-produced by Legendary Pictures, which was acquired in January by China's richest man, Wang Jianlin, and backed by equity investments from the state-owned China Film Group, Huayi Brothers Media Group, and Internet giant Tencent. The Chinese capital has helped the movie to play on an unprecedented 68% of all screens in China. (By comparison, Furious 7 played on 63% of all screens.)
Warcraft's China success reflects the country's love for the video game franchise of the same name. The fantasy action movie is adapted from Blizzard Entertaiment's games, which feature wars among humans, orcs, elves, and other mythical races in a broad universe. One of the core games, the online role-playing game World of Warcraft (WoW), is extremely popular among Chinese players, who are estimated at 10 million, or 10% of the games' fans worldwide.
On Tuesday midnight, WoW fans in China came out in droves to watch the long-anticipated film. WoW players must choose between opposing factions, the Alliance or the Horde, in the game, so gamers displayed their allegiances at the screenings. Many wore T-shirts with their factions' logos and chanted slogans while marching to the theaters, according to photos and posts on Chinese social media platforms.
One blogger in Chengdu city, who apparently doesn't understand the fan culture, wrote on Weibo that she thought there was a "crowd fight" (link in Chinese) last night when she passed by a cinema.
Some viewers took it a step further, coming in full costume as their favorite characters. Here are two fans dressed as human guards: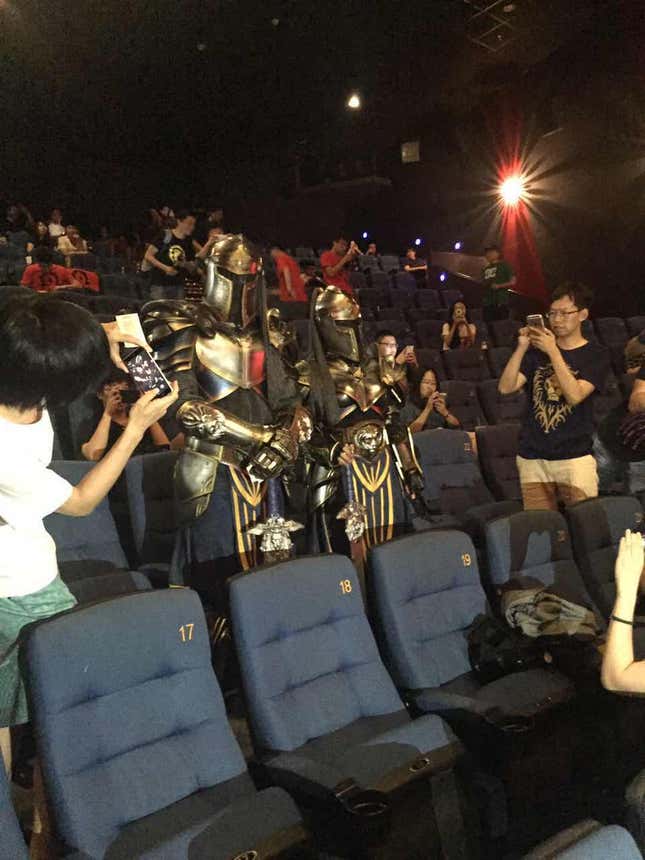 And a green-skinned orc: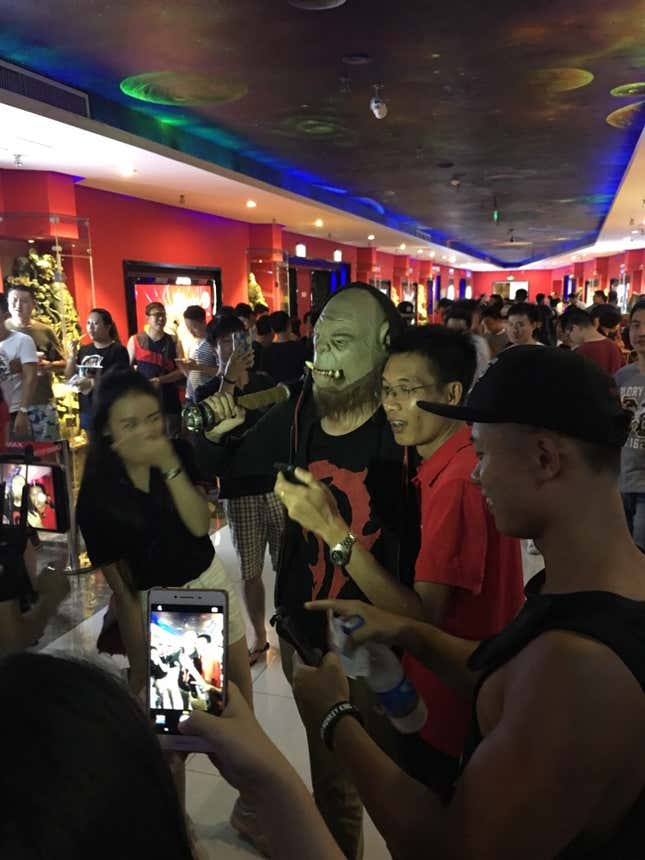 China's WoW fans said the film is part of their "belief," or "youth." "I couldn't be more excited when I watched the film's opening scene," one gamer in Wuhan city wrote on Weibo (link in Chinese). "Every character is so familiar, and every shot reminds me of the tale behind." "For the Horde! Loktar Ogar!," he ended his post with the Orcish language for "victory."
It's hard to tell which faction, Alliance or Horde, had the most Chinese fans at the screenings. But those loyal to the Horde made a rather grand, and probably expensive, gesture one day ahead of the film's debut. According to local Bund Star Media (link in Chinese), a giant Horde logo appeared on the facade of an iconic building at the Bund of Shanghai, accompanied by a message searching for gaming companions: "Where are you?"