Moleskine, maker of the iconic notebooks bound in coated cardboard, started trading on the Milan stock exchange today, Italy's first IPO since cashmere specialist Brunello Cucinelli debuted in April 2012. Investors have yawned at the Moleskine offering so far, barely pushing the stock above its opening price of €2.30 ($2.95), but the news is really that this IPO happened at all.
"I hear the concerns that Italy doesn't have a government," said Raffaele Jerusalmi, CEO of the Italian bourse, in a bout of understatement. His exchange is also Europe's only one to have shrunk in the past decade, losing a third of its market capitalization. Which is why, for instance, luxury retailer Prada snubbed its hometown in favor of a Hong Kong listing in 2011.
The reality is that Moleskine's IPO is a lucrative cash out for its private equity owners, Italy's Syntegra Capital and Switzerland's Index Ventures, which are pocketing most of the €244 million raised in the sale. Only about 11% of the offering is comprised of new shares. So merely pulling off the IPO represents a win for the sellers. And it's clearly a win for the exchange. Whether Moleskine will prove to be a win for its new shareholders, however, remains to be seen. Or as the company's bankers—Goldman Sachs, UBS, and Mediobanca—put it in an odd slogan of sorts for the IPO, Moleskine is "a growth story…yet to be written."
Today's IPO values Moleskine at €490 million ($628 million), a heady price for a purveyor of paper goods. But as I explained in a lengthy preview of the offering, Moleskine positions itself as the exact opposite of a stationery company, selling, like so many luxury brands, a sense of identity more than a functional product. This is from an English version of Moleskine's IPO prospectus (PDF):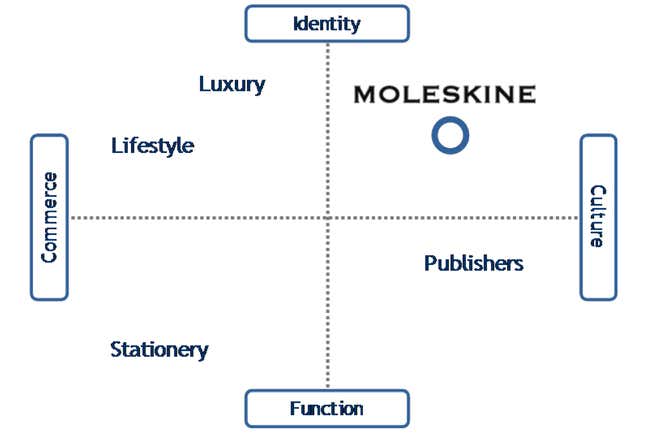 Moleskine CEO Arrigo Berni was on CNBC this morning, talking up the potential for digital extensions of the brand. I was also on, casting doubt on that. If you're betting on Moleskine, you better be betting on paper, which accounts for 93% of the company's revenue and allows it to achieve operating margins well above other luxury brands.
Bonus Moleskine tidbit: You can officially pronounce it however you want, according to the company, which says the Milan-based brand has an "undefined national identity." Though we normally go with MOLE-skin, it might be more appropriate to say mole-ay-SKEEN-ay today in honor of Italy finally pulling off an IPO.