It was like something out of a Batman movie.
Under the cover of darkness, a massive, blinking object quietly circled the Statue of Liberty and lower Manhattan before finally coming in for a landing at John F. Kennedy International Airport.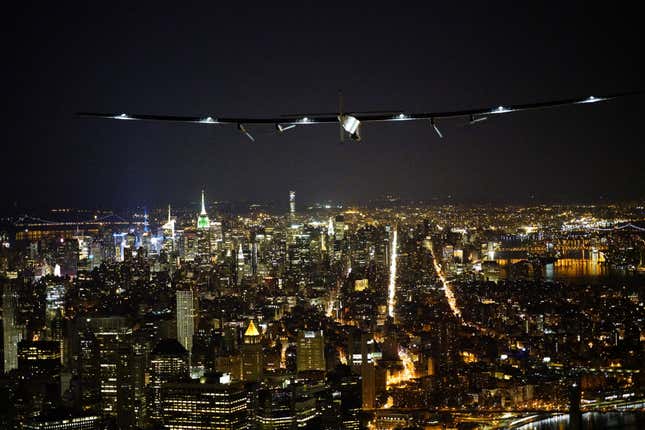 It was Solar Impulse 2, the largest solar-powered aircraft in the world.
With a wingspan greater than a Boeing 747 and a hull about the size of the average New York apartment, the Solar Impulse landed in New York early Saturday morning after completing another leg in its journey around the world.
The trip is led by Andre Borschberg, a Swiss businessman and pilot, and Bertrand Piccard, the pilot who completed the first non-stop balloon flight around the world in 1999. The pair aim to highlight the potential for renewable energy sources in aviation.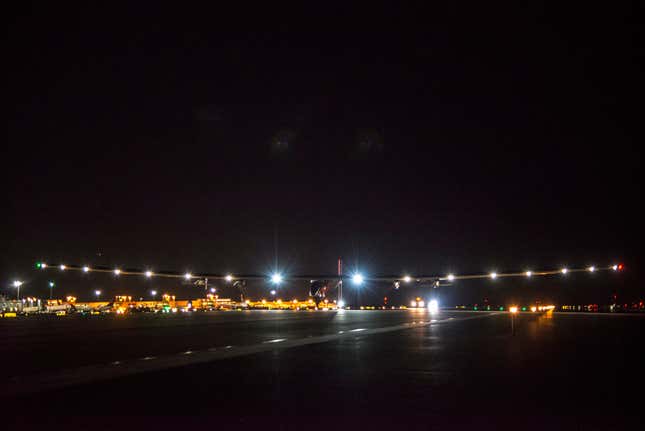 After beginning in Abu Dhabi, the plane's world tour was delayed in 2015 when some of its batteries were damaged on a flight between Japan and Hawaii. The team had to make repairs and then wait until the days got longer again in the Northern Hemisphere. The plane is powered by the sun, after all.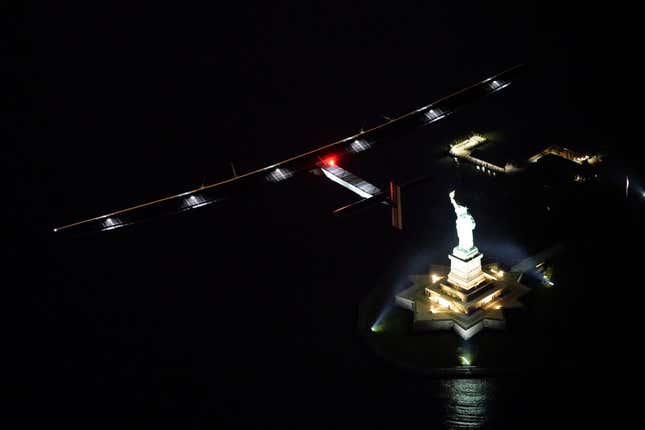 Other delays have followed. The massive plane was originally meant to land in New York around May 31, but due to some inclement weather, and the fact that the thing simply doesn't move all that quickly, its trip from Pennsylvania to Gotham wasn't completed until last night.
According to the BBC, the trip from Pennsylvania's Lehigh Valley to New York took nearly five hours, which is about three hours longer than it would've taken the pilots had they jumped into a Prius and driven on the highway.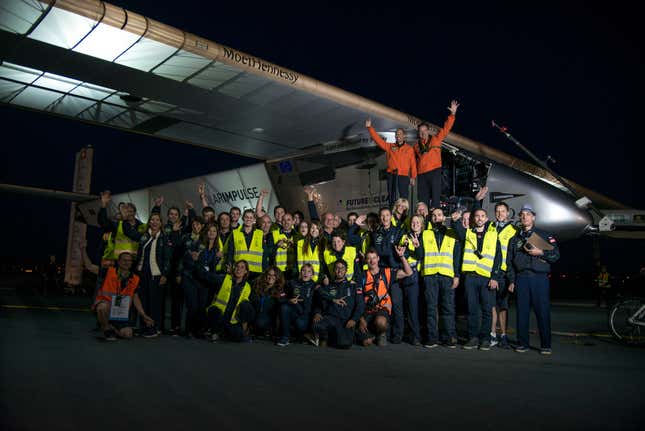 The Solar Impulse team will now set off for Europe, aiming to land in Paris in order to recreate aviator Charles Lindbergh's first transatlantic flight in 1927. But as the BBC points out, the plane needs calm weather and low winds to fly at all, meaning they may well end up having to reroute to somewhere in the south of France.