Memorials were held and tributes offered around the world last night (June 13) for the 49 people who were killed at the Pulse nightclub in Orlando, Florida, over the weekend. Crowds gathered and politicians paid tribute in countries that support LGBT rights, as well as those that don't.
In Sydney, Australia, the town hall was lit up in pink on Monday night.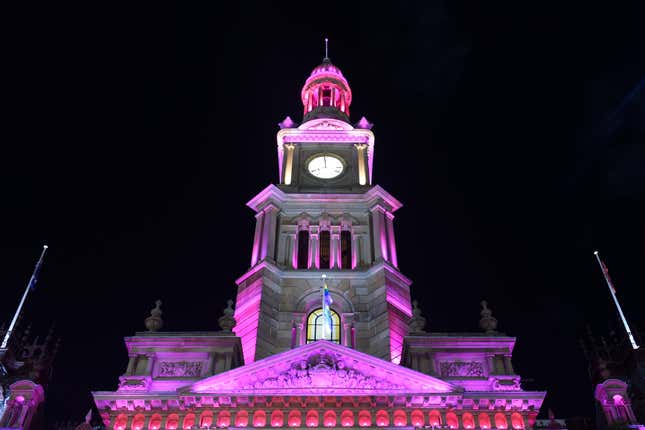 and citizens set up an impromptu candlelight memorial: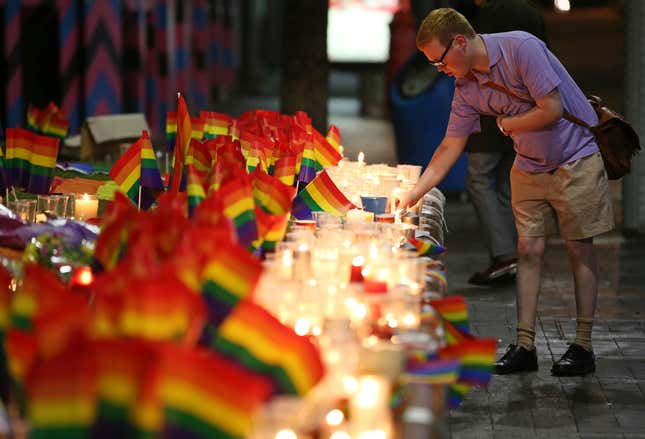 In Bangkok, where anti-gay rhetoric has been growing under a military junta government, a makeshift memorial was set up outside the US Embassy.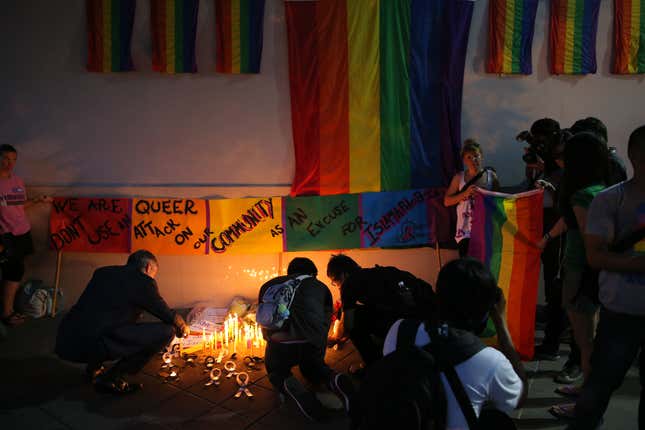 And in Hong Kong, citizens raised rainbow umbrellas and lit candles during a memorial in the central business district: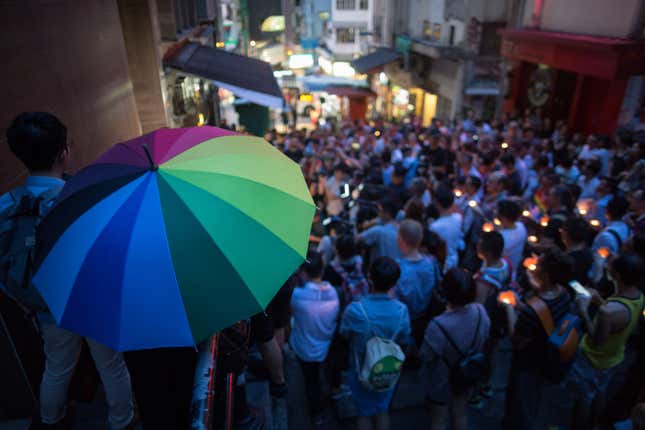 China's LGBT groups issued a statement condemning the violence and expressing love. Depictions of homosexuality are banned in Chinese media and only 5% of China's LGBT populations are out of the closet.
In India, where homosexuality is illegal, students in Mumbai made a rangoli from colored powder to commemorate the victims: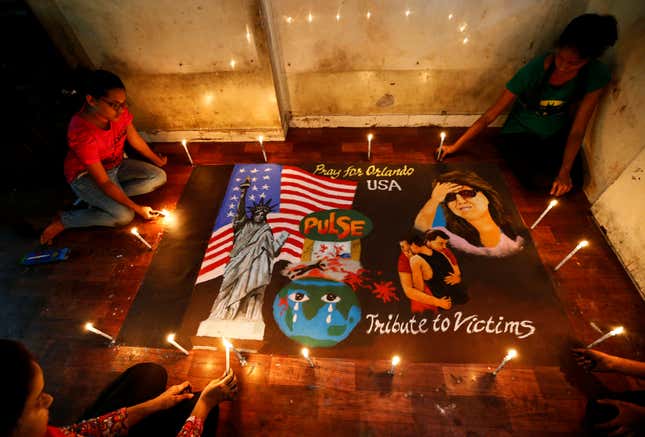 In Russia, where gay "propaganda" has been banned and the parliament recently considered a bill that would ban gay couples from holding hands, a small memorial was erected outside the US Embassy.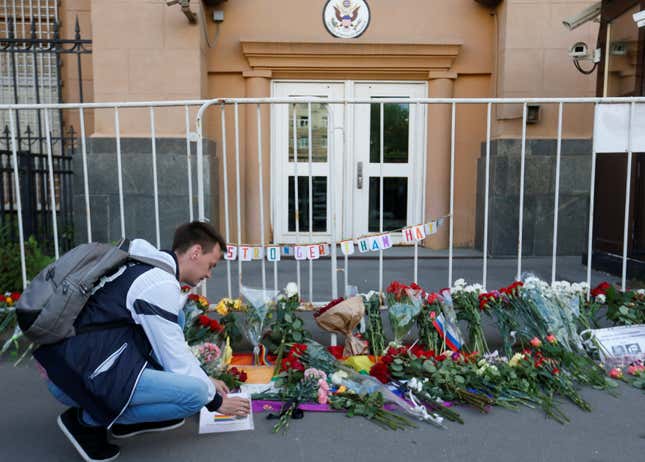 One gay couple posted on Facebook that they were arrested for "unauthorized action" after the duo laid a placard there that said "Love wins."
The AP photographed a man being detained at the memorial.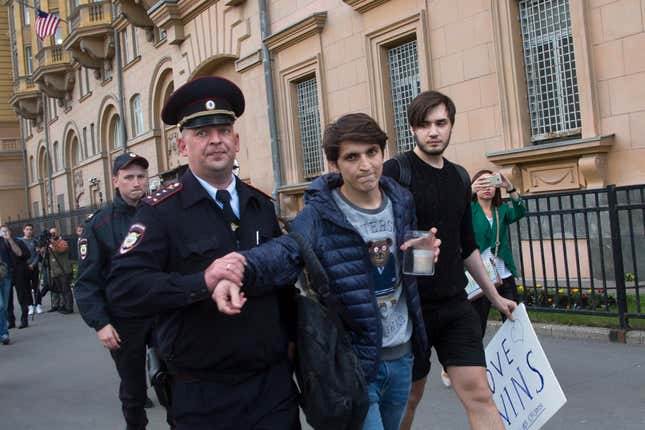 And governments from countries where homosexuality is illegal or persecuted, including India, Egypt, Singapore, and Iran sent their condolences.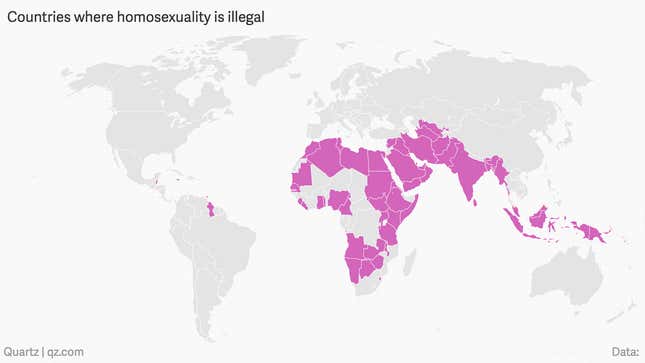 In countries where gay rights are supported, the memorials were larger and often state-sanctioned.
In Paris, the Eiffel Tower was lit up with rainbow lights.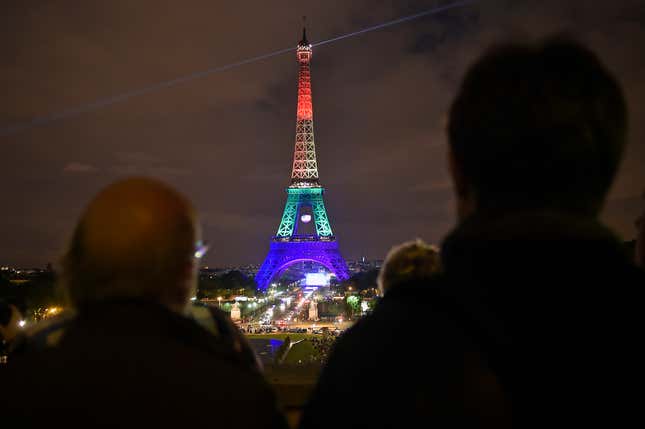 The London Gay Men's Chorus performed a Simon and Garfunkel classic in Soho:
While hundreds of people gathered outside the historic Stonewall bar in New York's Greenwich Village: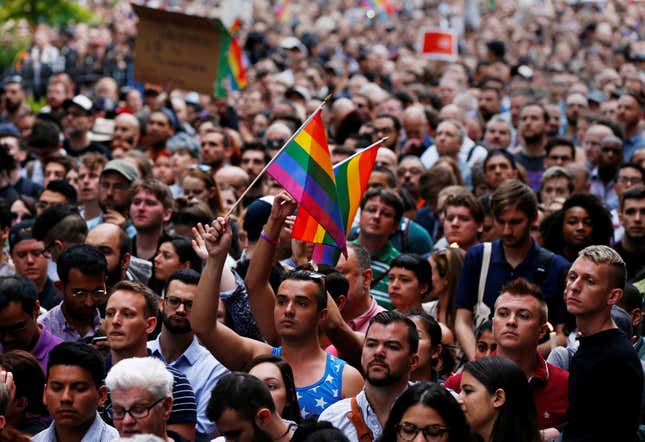 And in Boston, City Hall was lit with rainbow lights.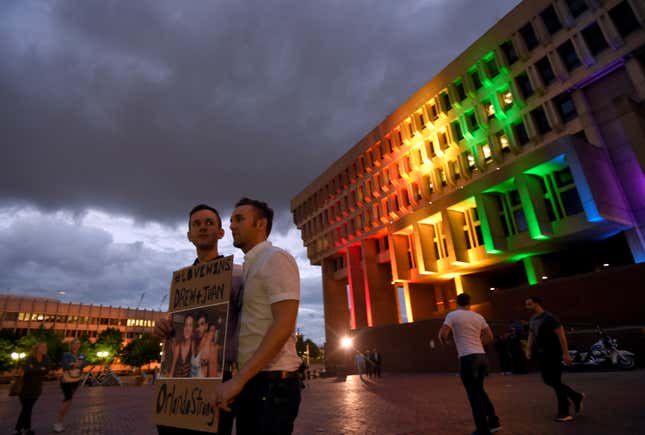 Los Angeles held a candlelight vigil.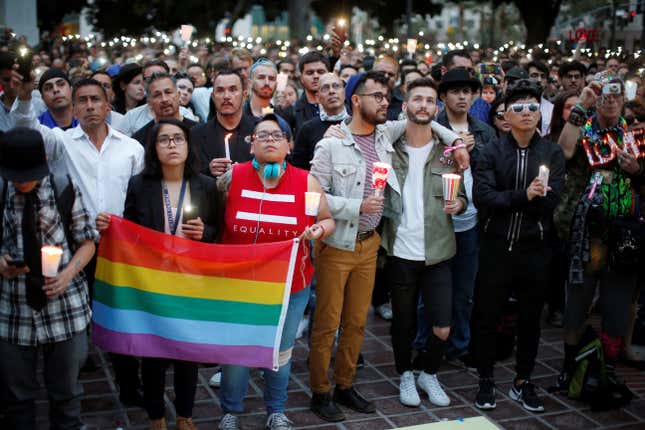 Thousands gathered outside Orlando's performing arts center. Memorial services and vigils will be held in Orlando for the rest of the week.