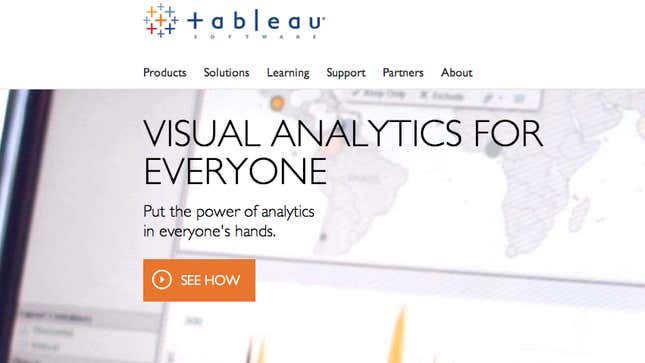 "Visual analytics for everyone," proclaims Tableau Software's homepage. True to its word, the company makes software for creating maps and charts that is both free and Luddite-proof—enough, at least, to be popular among reporters at the Wall Street Journal and the Huffington Post, as VentureBeat reports. Its bread and butter, though, is more sophisticated business analytics software and services, lumping Tableau firmly in with the Big Data business that everyone is getting so excited about these days.
Tuesday's announcement of  Tableau's impending NYSE IPO won't do anything to still that zeal. The Seattle-based company, which will trade under the ticker "DATA," will raise $150 million through a public listing to make good on its promise of tech-y populism and commodified Big Data service.
Tableau uses a "freemium" business model, where the free trial version is a foothold for promoting its brand and marketing more sophisticated and tailored business-intelligence products. Its customer list includes Barclays, Bank of America, Goldman Sachs and Pfizer.
It seems to be working. The company, which was founded as a research project out of Stanford University, has demonstrated an uncanny knack for doubling its revenues each year. It reported $128 million in revenues last year, up from $62 million in 2011 and a mere $34 million in 2010.
However, although Tableau is profitable, unlike similar business analytics companies that have listed while still in the red—Workday and Splunk come to mind—its profit is shrinking even as revenues explode. Net income was $3.4 million in 2011 and $1.6 million in 2012, says its prospectus.
And wresting more market share from established companies could prove challenging—and expensive. Tableau's prospectus identifies three types of competitors: large software companies like IBM and Microsoft, spreadsheet software makers—again, Microsoft—and business analytics software providers, such as Qlik Technologies and TIBCO Spotfire.
Still, many are optimistic about Tableau, particularly given the promising debuts of similar companies. QlikView floated shares at $15 in July 2010; it now trades at $24.70 (see the green line in the chart below). More recently, as InformationWeek points out, Splunk's share-price has more than doubled since its $230 million IPO in April 2012 (blue line), while Workday (purple line) is up 120% since its October listing, in which it raised $685 million: