Shanghai Disneyland Resort, Disney's first theme park in China, officially opened to the public on Thursday (June 16). The $5.5 billion park is Disney's biggest overseas outpost. From a Tron-themed roller coaster to the 12 animals of the Chinese zodiac, Shanghai Disney's new features are sure to excite its opening day visitors.
But some are already deeply annoyed with the park's long lines, poor-mannered visitors, and surprise visitors.
Disney hasn't announced the number of visitors attending its opening day, but a cast member at the park estimated 30,000 had shown up, according to local media (Chinese), paying 499 yuan each (about $75.) With those crowds, entering the gates or taking a ride required long-term commitment.
"The queuing time is so long, even comparable to the World Expo," Xuan Kejong, a well-known local journalist complained on Weibo (Chinese, registration required), referring to the immensely popular 2010 Shanghai Expo. "It's so tiring! Taking three or four rides in one day is good enough."
Xuan also complained about seeing one child defecate at a restaurant with his parents' permission, only 20 meters away from the bathroom. "The only improvement: They used a plastic bag to catch it," he wrote.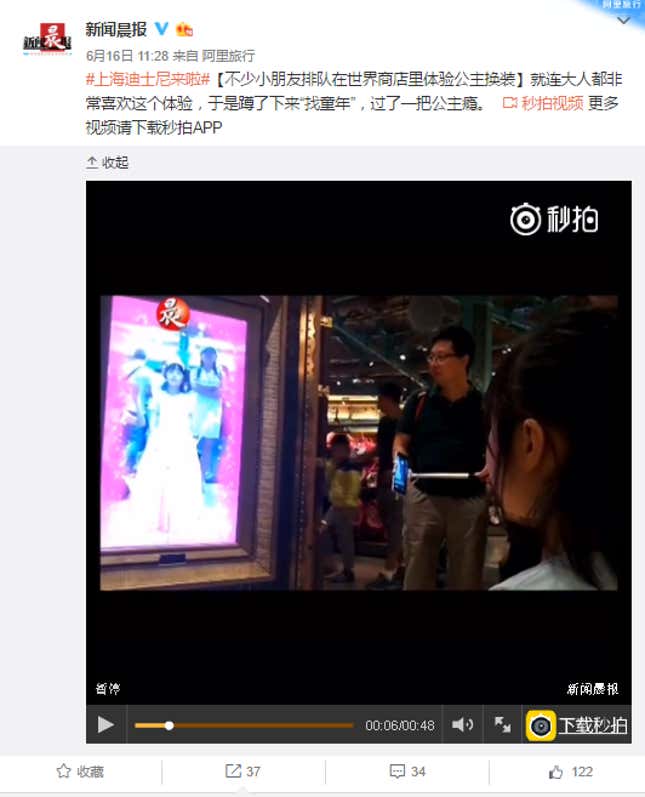 Disney has a worldwide ban on selfie sticks, but some tourists managed to smuggle them past security, Hong Kong newspaper Ming Pao reported (Chinese). In one video on Weibo, a woman with a selfie stick shows off her daughter being "dressed" in different princess costumes by Disney's "magic mirror" screen.
The most unexpected scene of the day was a politically sensitive one: Two foreign tourists were spotted wandering around wearing hats with the names of Chinese dissidents. One name was Liu Xiaobo, a Nobel peace prize winner currently in prison. The other was the Dalai Lama, the spiritual leader of Tibetan Buddhism.
The 1,000 Communist Party officials attending the theme park's opening probably weren't happy to see them.
Tom Tsui contributed reporting.