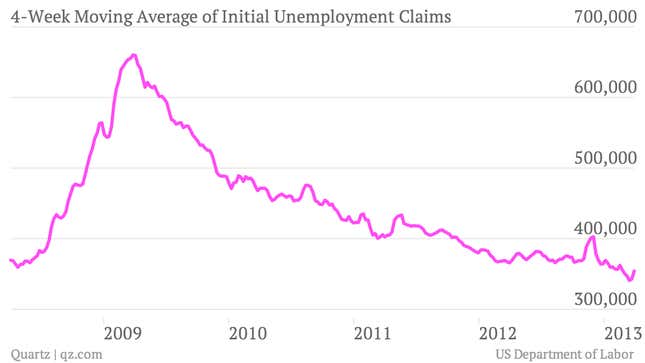 Today the US Department of Labor reported a spike in the number of new claims for unemployment insurance, with 385,000 new applicants, up nearly 30,000 from the week before. That's the second bad jobs indicator this week—yesterday, the ADP payroll company reported fewer new jobs in March than many had expected.
Tomorrow (April 5), we'll see the the Department of Labor's official measure of unemployment for March, and the leading indicators are mixed. ADP reported that construction hiring was down. Economists have been waiting for the effects of the US budget sequestration—a package of automatic spending cuts—now that furlough notices and contract cancellations have been going out, following a bipartisan deal on spending for the rest of the year. This may be the earliest sign.
There is also a more technical explanation: It is more difficult for the government to adjust these statistics for seasonal effects around the recent Easter holiday, the dates of which move from year to year along with the associated school vacations. That makes some analysts confident that this week's increase is just statistical noise—an Easter Egg, if you will.