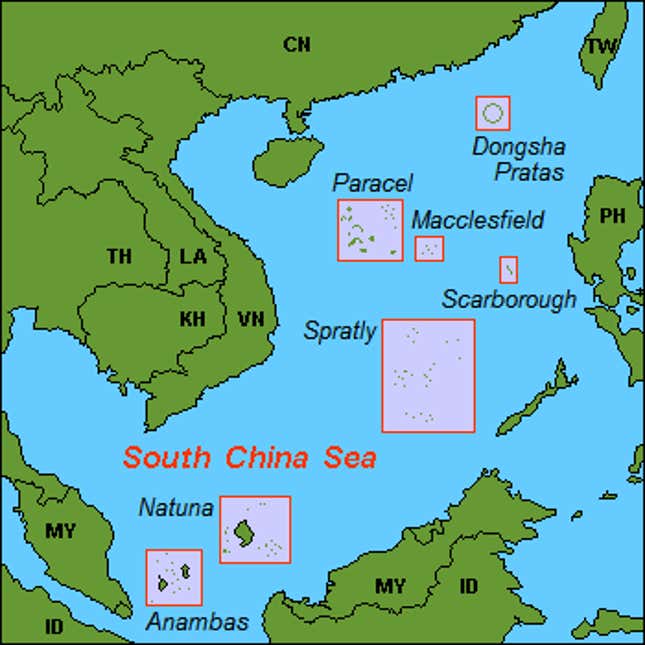 Indonesia has been signaling for the past few years that it will be more vigorously defending its maritime resources. It loses billions of dollars every year to illegal fishing. This weekend tensions flared over an operation conducted on Friday (June 17) against Chinese fishing vessels operating within the exclusive economic zone (EEZ) of Indonesia's Natuna islands.
According to China, several Indonesian navy ships opened fire on Chinese fishing vessels, injuring a Chinese fisherman in what it called a "traditional Chinese fishing ground."
"China strongly protests and condemns such excessive use of force," said foreign ministry spokeswoman Hua Chunying in Beijing yesterday (June 19). "China urges Indonesia to stop taking action that escalates tension, complicates issues or affects peace and stability."
Indonesia's navy confirmed the incident, but it said nobody was harmed, and that a Chinese-flagged vessel was detained.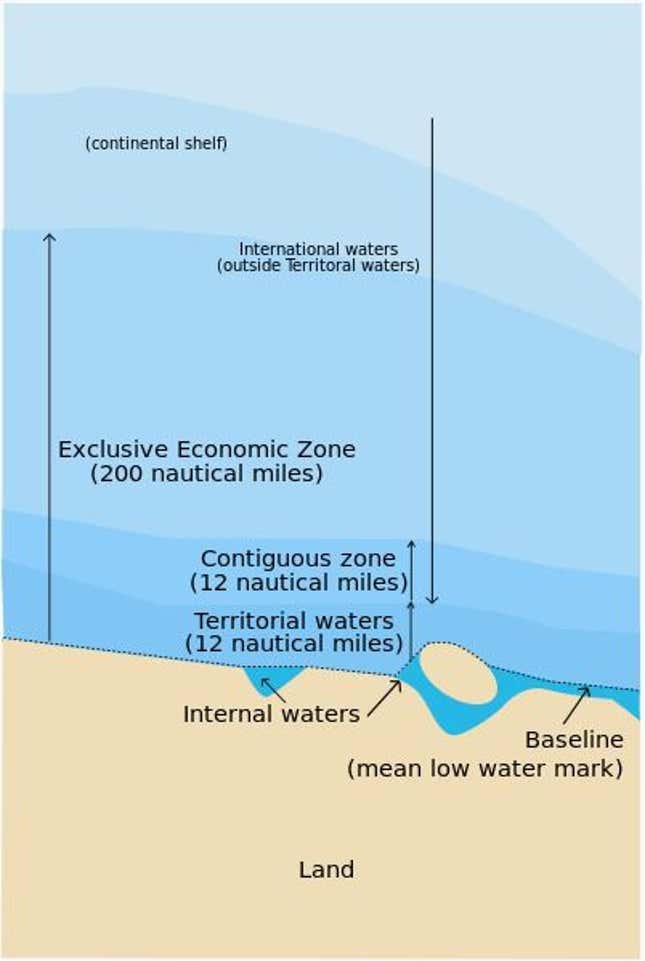 Indonesia doesn't view its EEZ as a "Chinese fishing ground," of course. Instead it considers fishing operations there by other nations to be theft.
Susi Pudjiastuti, head of Indonesia's maritime affairs and fisheries ministry, confirmed as much in a tweet (link in Indonesian) this morning, saying that stealing fish is "criminal" and there can be no agreement among nations that will allow the theft of fish.
An EEZ extends 200 nautical miles from a nation's shore, and within it a country has exclusive rights to natural resources, including fish, according to the 1982 United Nations' Convention on the Law of the Sea.
But in recent years China has been aggressively asserting a claim to most of the South China Sea, based on a "nine-dash line" it drew on a map in the 1940s. In the case of Indonesia, the line overlaps with the EEZ that extends from the Natuna islands. In recent months China has had several other encounters with Chinese fishing vessels operating with its EEZ.
In March an Indonesian patrol vessel tried to apprehend such a trawler operating in the EEZ, but China's coast guard aggressively interfered. This sort of behavior has prompted Indonesia to beef up its military presence on the Natunas and even enlist the services of nano-satellites to better locate trespassing ships. In May, Indonesia again tried to capture a trespassing Chinese trawler. This time it succeeded—but only because it brought along a warship.
Hasjim Djalal, an Indonesian expert on maritime affairs and former ambassador the UN, said that China's nine-dash line is unfounded. With Chinese fishing vessels operating in Indonesian territory, "we need to prepare the navy to protect our sovereignty," he said on June 13, just five days before the incident on Friday.