In 1975, voters in Britain backed the country's nascent membership in a predecessor of the European Union by a large margin. In 2016, things don't look so clear. On June 23, voters in Britain will once again vote on whether the country should remain in the EU.
EU-related referendums are rare in the UK, which makes predicting an outcome tricky. Over the past 40 years or so, there have been more than 50 such votes across the continent, according to the European Parliament (pdf). Most, but not all, have passed in favor of greater European integration:
Here's how the UK's previous referendum on membership in the European Economic Community, as it was then known, went back in June 1975—a two-thirds majority in favor, on decent turnout:
The Swiss, meanwhile, haven't been so keen. On three occasions—in 1992, 1997, and 2001—voters in the Alpine country rejected membership in the EU: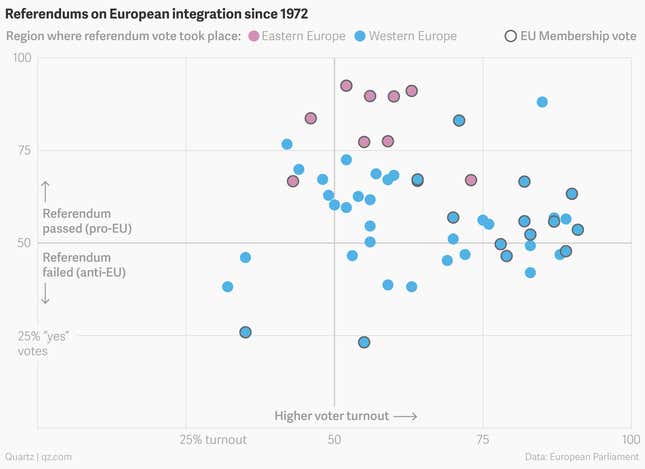 Eastern Europe was much more enthusiastic. Voters in places like Poland, the Czech Republic, and Romania voted to join the EU by comfortable margins, coming into the club in three batches—2004, 2007, and 2013.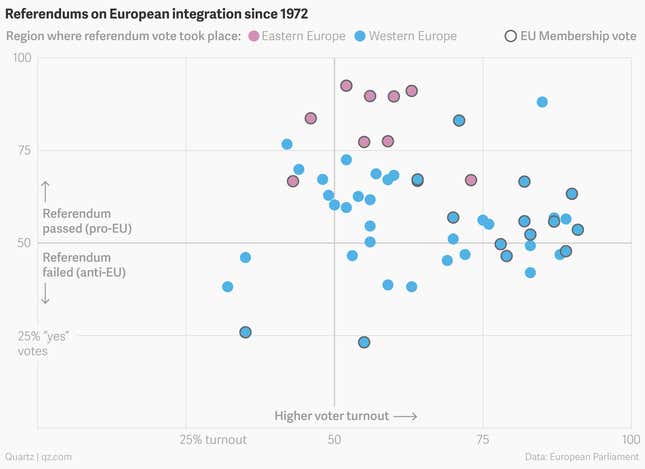 Most recently, though, EU-related votes have gone against the eurocrats. Voters in single-issue referendums—on a bailout deal for Greece and cross-border policing in Denmark last year, and on an EU-Ukraine treaty in the Netherlands earlier this year—rejected closer European cooperation.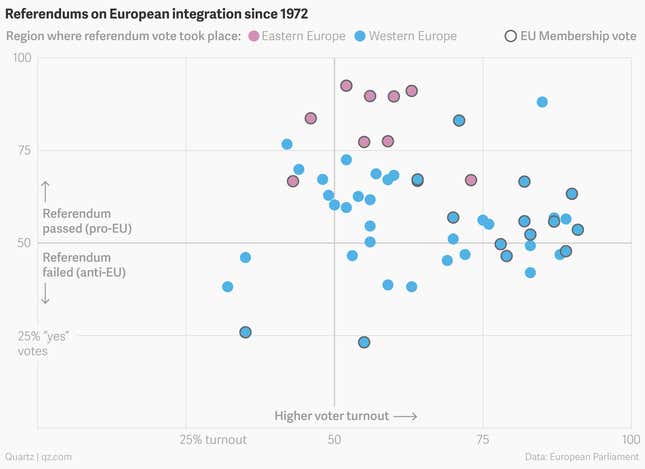 We'll soon find out whether British voters will extend this trend or swing back in favor of the EU's founding principle of "an ever closer union."