New York
From dim sum to chow mein to mapo tofu, the popularity of Chinese food in New York City far surpassed my expectations on my first-ever visit to the United States. But what about xiaolongbao, or the soup dumpling? The dish is synonymous with my hometown Shanghai, and is available throughout New York as well.

"Then when Shanghainese got in the loop, we slurped dumplings whose insides were soup." So wrote Calvin Trillin in his poem "Have they run out of provinces yet?" in a recent issue of The New Yorker. 
The esteemed food writer was mocking the US's "food-obsessed bourgeoisie" as they struggle to keep up as one Chinese restaurant after another, each offering fare from a different province, pops up to delight their taste buds. A bigger challenge, from my point of view, is knowing whether the dish you're trying is authentic.
For example, I was surprised to find that General Tso's chicken in US restaurants has nothing to do with Tso Tsung-tang. (It doesn't even exist in China, regardless of what it's called.) So I decided to see how soup dumplings measure up in New York. Fully equipped with online food reviews and recommendations from my friends here, I began a three-day journey in search of the city's most authentic xiaolongbao.
A soup dumpling is traditionally filled with minced pork and has a smooth, tender, translucent dough skin. Crab, seafood, or vegetables are sometimes added to the meat filling for variation, but the best part is always the soup, made with an aspic jelly that naturally melts in the steam. The name xiaolongbao, or "little-basket steamed bun," literally tells you how it's cooked.
I tried eight places, from Manhattan to Brooklyn to Queens, most of them highly rated on Yelp. Below, I rank them based only on the authenticity of their pork soup dumplings, evaluating the skin, soup, and meat fillings. Five smiley faces is the highest score available.
Skin: 😊 Soup: 😊 Meat: 😊
My first stop was at Joe's Shanghai, by far the most popular xiaolongbao place in New York, at least according to reviews. Founded in 1995 in Flushing, Queens, and now with two branches in Manhattan, Joe's Shanghai has become a go-to for New York foodies and foreign tourists craving Shanghai cuisine. At its Chinatown restaurant, a pair of Italian tourists with whom I shared a round table told me they followed Lonely Planet's lead here. They came especially for xiaolongbao, just like me.
Unfortunately, I have to list Joe's Shanghai at the bottom of my ranking. Seriously.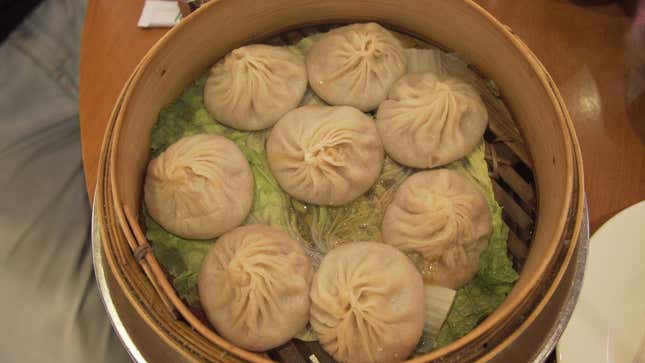 The reason is simple: They were exactly the opposite of what authentic xiaolongbao should be. Pieces of cabbage (really, cabbage?) lined a basket containing eight unexpectedly huge pork soup dumplings. The normal way to prevent xiaolongbao skins from sticking to the baskets is to put them on a gauze or a hole-punched paper. This allows the air to flow better during steaming, and the xiaolongbao won't have a vegetable smell.
I accidentally broke two dumplings when picking them up with my chopsticks, as they were hopelessly stuck to each other. Thick, greasy, brown juice with fat floating in it jubilantly burst forth. The soup should be light, clean, and delicate.
One bite proved I wasn't wrong. The main culprit: too much fat in the minced pork.
Skin: 😊😊 Soup: 😊 Meat: 😊
Two cooks chatting unselfconsciously in Shanghai dialect near the entrance lured me into this eatery by accident. It was one of the few places that didn't insult me with a pair of tongs for picking up the dumplings (you need only chopsticks), or a tiny spoon for pouring vinegar into them, or thin ginger slices with the vinegar (used only when eating hairy crab). Less is more.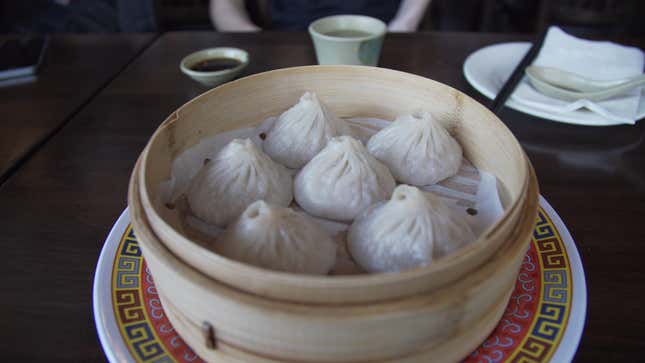 But the meat filling, again, disappointed me. Fatty, low-quality pork ruined the soup. This is a typical mediocre Shanghai restaurant that I could encounter back home. Go there if you would like to experience horrible service by the entirely Shanghainese crew who care more about a European soccer game than you. (By the way, that's also an authentic taste of Shanghai.)
Skin: 😊 Soup: 😊😊😊 Meat: 😊😊😊
This restaurant is what really brought me to Flushing. It's almost as famous as Joe's Shanghai—both of them cheerfully boast their long histories of being recommended by the Michelin Guide.
The dumplings here have a nice balance of fat and lean meat, which is not easy to accomplish. Among the places I tried in New York, the juice here is the most plentiful—but unfortunately, the wrapper is also the thickest.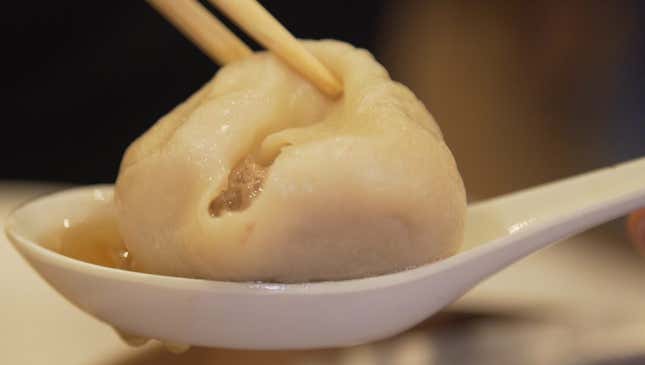 How thick? It's like the skin of the jiaozi, a dumpling that's common in northern China. With the same ingredients of minced pork and flour, Chinese people make many different kinds of dumplings, that vary greatly in their taste and preparation. Jiaozi has much thicker skin than xiaolongbao because it is a northerner's staple. Xiaolongbao, meanwhile, is often a breakfast for Shanghainese, who don't need that strong floury taste to go with the tiny delicacy.
This restaurant also specializes in northern Chinese snacks like fried buns with chives and eggs. Despite its name, it has nothing to do with Nanxiang, a town in the Shanghai suburbs where xiaolongbao originated over a century ago. Stealing names from areas related to the dish's Shanghai origins is not uncommon among New York's xiaolongbao eateries, I noticed.
Skin: 😊😊😊 Soup: 😊😊😊 Meat: 😊😊😊
Three Shanghai millennials who grew up together opened this place last October, after quitting well-paid jobs on Wall Street and at a think tank in Washington, DC. They were joined by chef Tu Zongxin, formerly with Joe's Shanghai, whose yaso (uncle in Shanghai dialect) referred him here. They share a vision of "promoting Shanghai culture" in the busiest district of Brooklyn, co-founder Kevin Gu said.
It's probably the only fast-casual Shanghai eatery in New York. Quality varies depending on the time of day. In general, the minced pork is a bit too fat and the soup is not that abundant. A basket of four xiaolongbao is priced at $5—making it one of the most expensive offerings in my review. But there is no better choice in Brooklyn.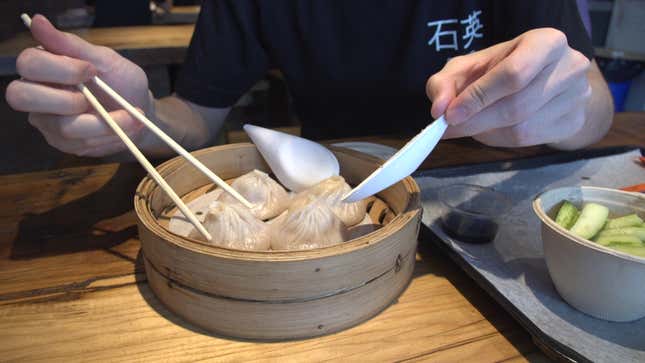 Skin: 😊😊😊 Soup: 😊😊😊😊 Meat: 😊😊😊
Bad xiaolongbao use cheap, fatty meat. The ones here, awkwardly, use pork that's too lean. To me the filling is like the minced pork in xiaohuntun, or little wontons, yet another kind of dumpling that is a Shanghai specialty. Still, it's much better than floury meat. Also, the dough skin is properly thin, but not ultra-thin like in Cantonese dim sum.
The delicate juice doesn't rely on brown sauce or salt or the pork itself, and is the purest I found in New York. Peter Tan, the Shanghainese owner, told me that his soup is boiled with secret spices, an idea he borrowed from Lanzhou beef noodles, thanks to his decades of living in China's northwestern region.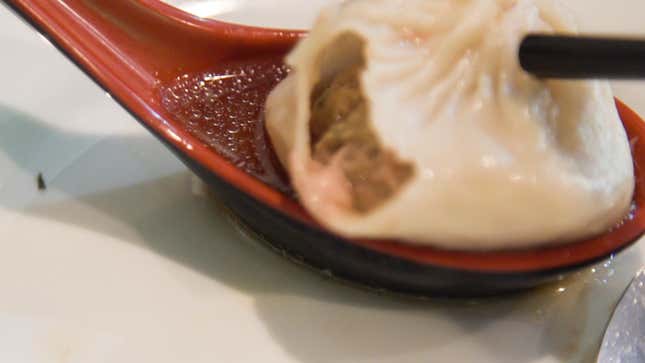 One spice he revealed to me is Sichuan pepper, which creates a tingly numbness in the mouth, but I found it too subtle to detect. What I can say is that the spice combinations make Tan's soup taste better.
For your information, 21 Shanghai House shares the same Chinese name, Xiao Nan Guo, with Shanghai Min, a popular restaurant chain in Shanghai. But there is no connection.
Skin: 😊😊😊😊 Soup: 😊😊😊 Meat: 😊😊😊😊
The Yu Garden in Shanghai is a 400-year-old Chinese garden surrounded by a market filled with fake goods and authentic food, including xiaolongbao. The Yu Garden Dumpling House in Flushing, Queens, which opened two years ago, has nothing to do with it.
But chef Qian Qiuping, in her fifties, does have an expertise in making soup dumplings. She worked as a pastry chef at a three-star Shanghai hotel for more than a decade. Since moving to the US, she has been running a family workshop on making xiaolangbao for Chinese restaurants from Flushing to Coney Island.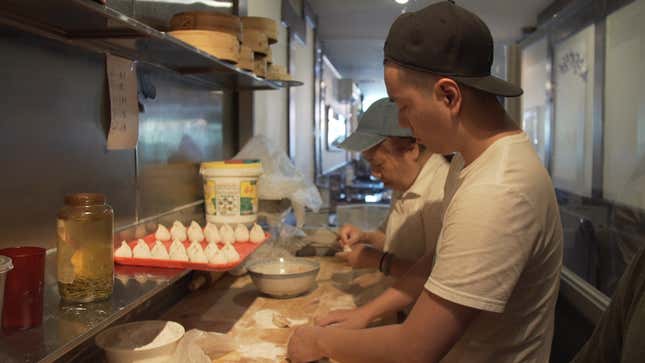 The xiaolongbao by Qian's hand were the best-looking ones I found in New York. They stand firmly and orderly, like guys in suits and ties waiting for job interviews. You can't do that with sticky, floppy, or floury skins, or fatty pork. But most importantly, you need a pair of seasoned hands.
Qian adds brown sauce to the juice, to cater to northern Chinese customers. I found it a bit too heavy, but it goes well with soybean milk, which we often have for breakfast in Shanghai.
Skin: 😊😊😊😊 Soup: 😊😊😊😊 Meat: 😊😊😊😊
If you're searching for a regular xiaolongbao spot in Chinatown, I recommend this place. Every other restaurant I went to failed in one or two criteria when it came to their skin, soup, and meat fillings. This eatery doesn't stand out in any one aspect, but I find it hard to complain about anything.
This place has spacious seating with leather booths, which is quite rare among xiaolongbao eateries. And the Cantonese-speaking waiters are more responsive than many Shanghai crews.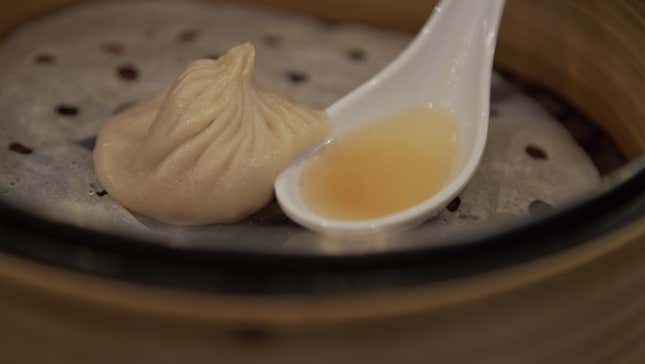 #1. The Bao, East Village
Skin: 😊😊😊😊😊 Soup: 😊😊😊😊 Meat: 😊😊😊😊
Don't be surprised that New York's best xiaolongbao is not in Chinatown. The Bao, which opened in 2014 in the East Village, is a sister restaurant of another xiaolongbao place in Flushing. The owner is not Shanghainese, but that doesn't make the fare here less authentic. A perfect soup dumpling combines a thin wrapper, meaty soup, and a balanced filling in terms of lean-to-fat ratio. The Bao's version is a good example of that.
The Bao is also good at innovation, although the wasabi soup dumplings are too strong for me, and the chocolate and banana ones do not really qualify as "soup" dumplings anymore.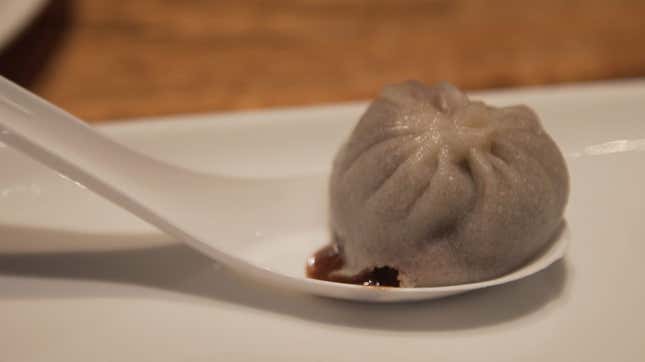 Honestly, I still feel lost after having eaten enough soup dumplings for an entire year. I tried to recall the best taste I had ever enjoyed back home. New York's winner is probably as good as an ordinary eatery on a Shanghai street corner, albeit six times more expensive. Shouldn't I just be grateful for something that comes so close, when I'm so far from home?
I told chef Tu at Yaso Tangbao that I hadn't found any authentic xiaolongbao in the US. He laughed at my wishful thinking. After all, "Chinese pigs are different from American pigs," he said in Shanghai dialect. I suppose he has a point.