John Bradley, the Navy pharmacist's mate second class who inspired his son to co-author the best-selling book Flags of Our Fathers, was on Iwo Jima that day but was not one of the six men in the 1945 photo taken by AP photographer Joe Rosenthal. The man previously identified in the photo as Bradley turns out to have been a private first class from Detroit, named Harold Schultz.
The US Marine Corps conducted the inquiry after researchers working on a Smithsonian Channel documentary about the photograph came to the military with evidence suggesting a case of mistaken identity. Facial recognition technology and a forensic analysis of the photo and others taken that day confirmed the mixup, the New York Times reports.
Bradley's son James, whose 2000 best-seller became the basis of a Clint Eastwood movie, said in May 2015, after the investigation was made public, that his father had mistakenly believed he was in the photograph, because he had participated in a flag raising on Iwo Jima a few hours earlier that wasn't captured in the photo. The Marines confirmed that John Bradley, who died in 1994, was involved "in the initial flag raising hours before the famous photo was taken."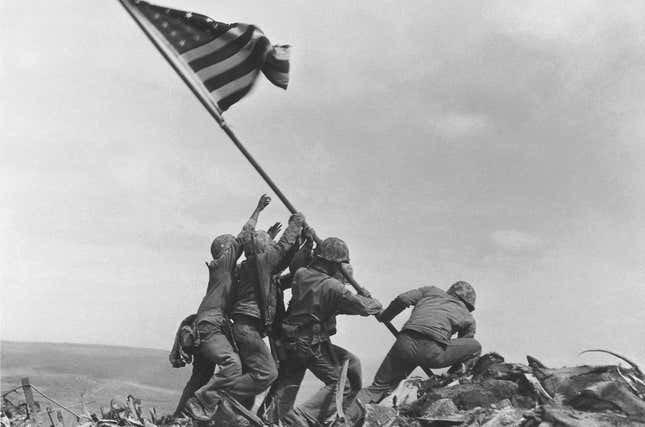 Schultz's stepdaughter, Dezreen MacDowell, told the Times that Schultz never mentioned he was one of the flag raisers until a family dinner in the early 1990s. His wife was distracted and didn't hear it, and Schultz, who worked as a mail sorter for the US Postal Service in Los Angeles and died in 1995 at age 70, didn't speak of it again, MacDowell said.
The Marine Corps review panel, which began its work two months ago, consisted of several active duty and retired Marines along with two military historians. Its recommendation was submitted to Marine Corps general Robert Neller for a final decision.
"Our history is important to us, and we have a responsibility to ensure it's right," Neller said in a statement from the Marine Corps. "Although the Rosenthal image is iconic and significant, to Marines it's not about the individuals and never has been.
"Simply stated, our fighting spirit is captured in that frame, and it remains a symbol of the tremendous accomplishments of our corps—what they did together and what they represent remains most important. That doesn't change."
The Smithsonian Channel documentary, The Unknown Flag Raiser of Iwo Jima, will air on July 3.