This month, one of China's internet regulators sent an unusual request to GitHub, the code repository for millions of programmers worldwide.
Could GitHub, the Cyber Security Association of China, asks by letter, remove a March 9 "issue" that suggests president Xi Jinping may have murdered someone:
Cyber Security Association of China

To whom this might be concerned at GitHub:

The post at https://github.com/programthink/zhao/issues/38 vilifies our President Xi as a murder suspect, which is a groundless and malicious slander. We hereby express our strong concern and request you to take it off your website at the earliest time possible.

Cyber Security Association of China
June 8, 2016

Address: No.190 Chaoyangmennei Street, Dongcheng District, Beijing. Zip Code: 100010
The letter is notable for two reasons. Firstly, it has drawn attention to a previously little-noticed 2,432-character essay alleging Xi ordered the military to murder his half-brother, Xi Zhengning, to cement his rise to power.
We surmise that Xi Jinping had probably hired somebody from the military to go to Hainan, including an army doctor. Xi Zhengning was an honest man who obeyed the rules, he was not on the defensive; his position wasn't high either, so he didn't have bodyguards. The murderers entered Xi Zhengning's house and subdued him, after which they injected some sort of poison into his body and caused his heart to stop beating.
(There's no evidence of any of these accusations, and they aren't considered credible.)
And secondly it marks a huge turnaround for China's often brutal internet monitoring agencies. In fact, just last year the Chinese government launched a DDoS (distributed denial of service) attack on GitHub, which effectively cut access to millions of programmers worldwide.
That attack marked the start of a new, aggressive push by China's Communist Party to regulate the internet outside of its own borders, researchers argued. This relatively polite letter, on the other hand, is a sign they realize that attack backfired.
"The political problems after last time were very severe," Percy Alpha, a pseudonymous researcher who follows internet censorship in China, told Quartz. In media outlets everywhere, The Chinese government was blamed for slowing down a website that millions of engineers rely on.
"Even the [US] State Department talked to high level Chinese officials after the attack, because it was an attack against US infrastructure," says Alpha. "It was very bad for the Chinese government's reputation."
The letter's author, the Cyber Security Association of China is a new institution under the Cyberspace Administration of China, the body that led last year's DDoS attack. It is run by Fang Bingxing, the original architect of China's Great Firewall.
GitHub has complied with the Chinese government's request. While it did not remove the essay, it has blocked access to the section of the website where it is posted for users in China. Entering the essay's URL into a browser in China, without using a VPN, yields: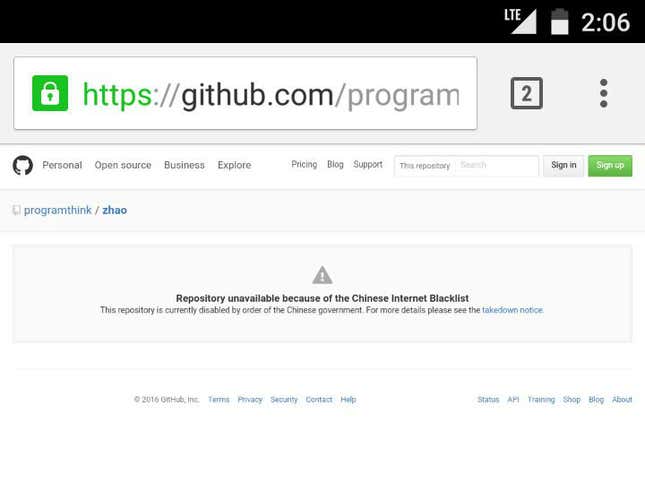 When asked about the apparent block, a GitHub spokesperson directed Quartz to a page explaining the company's government takedown request policy.
From time to time, GitHub receives requests from governments to remove content that has been declared unlawful in their local jurisdiction. Although we may not always agree with the choices of government actors, we may need to block content if we receive a valid request from a government official so that our users in that jurisdiction may continue to have access to GitHub to collaborate and build software.
Github is more difficult for the Chinese government to censor than social media sites like Facebook or news outlets like the New York Times. While it's mostly used as Q&A site for coders, some Chinese internet users use it to post tips on how to bypass the Great Firewall.
Since the site is built using a protocol known as HTTS, the Great Firewall can only block the entire site, not specific pages. But doing so would make it impossible for China's coders who rely on GitHub do their jobs.