Here's a taste of some of the changes coming to politics in the Philippines.
For his presidential inauguration on June 30, Rodgrigo Duterte, the tough-talking populist from the country's southern region, has shunned the usual trappings of a posh affair in favor of a "modest diplomatic reception."
Instead of a lavish state dinner, the 627 dignitaries and supporters will have to make do with finger food such as plantain fritters (maruya), mongo bean soup, buns filled with cheese from carabao's milk (kesong putt), and durian fruit tarts.
And instead of usual the wine or vin d'honneur, the Philippines' 16th president has chosen to toast with coconut juice.
Presidential spokesman Martin Andanar says that the simple menu and austere celebration is in keeping with Duterte's preference to do away with fussy and extravagant events.
Sartorial substitutes and corduroy slacks
Duterte also is bucking tradition when it comes to presidential fashion. He plans to pair his formal Philippine barong tagalog ceremonial shirt with casual corduroy slacks. His common-law wife, Cielito "Honeylet" Avanceña, said that he initially considered wearing black denim for the historic event. "The usual kind of [formal] pants made from synthetic fibers will not work for him. He prefers black jeans or cords," she told Rappler. "That's how he is, we can't do anything about it."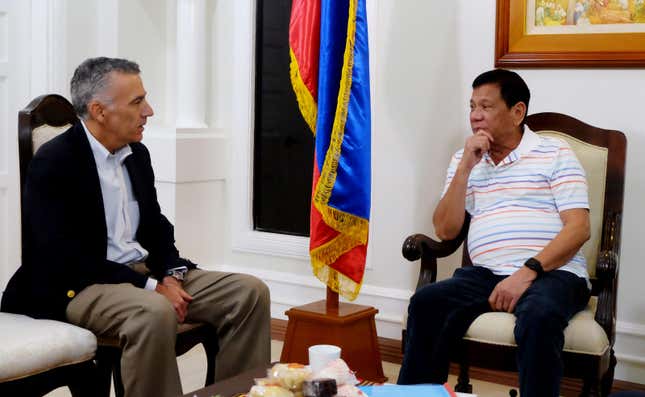 Duterte's inaguration will be steamed live on Facebook for Filipinos, who are among the largest users of the platform. "The streaming of the inauguration on Facebook is mainly for those who don't have access to television and radio in the Philippines," Andanar said at a press briefing, referring to some 10.2 million overseas Filipino workers around the world, a majority of whom voted for Duterte.