No matter how many books crowded my parents' living room bookshelves in my childhood home in New York, two always sat at eye level right in the center: Henry Kissinger's Years of Upheaval and Alvin Toffler's Future Shock.
Alvin Toffler, who passed away today at age 87, not only pioneered the profession of futurism but influenced an entire generation of baby boomers. AOL founder Steve Case's new book The Third Wave consciously carries the same title as Toffler's 1980 sequel to Future Shock (1970).
(In 2013 technology commentator Douglas Rushkoff wrote an insightful book entitled Present Shock.)
A healthy and focused mind ensured Alvin's amazing longevity, both physically and intellectually. When I sought out the Tofflers some years ago, it was only appropriate to take my Dad with me. Over an extended evening, both Alvin and his wife Heidi were sharp as ever on the adhocracy (a term Toffler coined) of American business and politics. In the 1970s, they foresaw the inability of both governments and companies to cope with rapidly shifting citizen and consumer demand.
A year later, I returned to the Toffler's favorite hotel dining room near their home in Los Angeles, this time with my wife Ayesha for a double-date. Throughout our long dinner we bantered about how their lives and worldview evolved through disruptive technological change.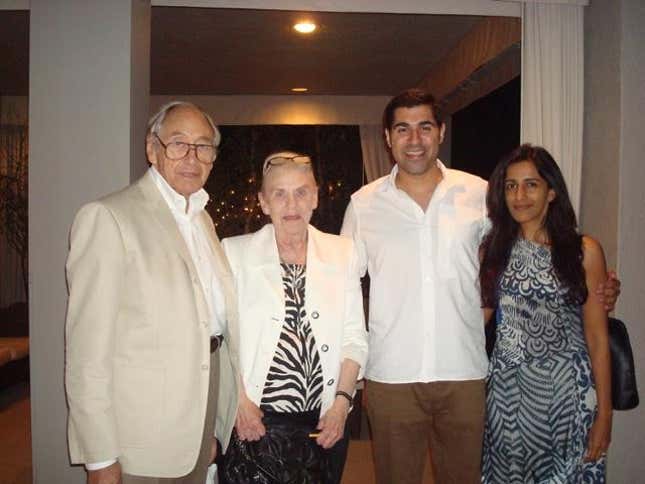 The Tofflers weren't afraid to invent a new vocabulary for this crystallizing world, coining terms such as "prosumer" and "information overload." We wrote about that evening and the insights the Tofflers generated in Foreign Policy and annotated our favorite passages from the Tofflers' works as well.
Inspired by this husband-and-wife team, we also sought to revive and extend their disruptive thinking in our 2012 e-book Hybrid Reality.
The Tofflers didn't see technology as just a dumb repository of information but as a global force in its own right, one with which we would actually co-evolve. Such thinking can be found today in the works of other leading philosophers of technology such as Brian Arthur and Kevin Kelly.
My friend Steve Clemons from the Atlantic never misses a chance to introduce me at events as the "21st century Alvin Toffler." Indeed, I've probably been his biggest admirer under the age of 40. After all, his insights have proven just as relevant for the millennial generation as for the Baby Boomers.