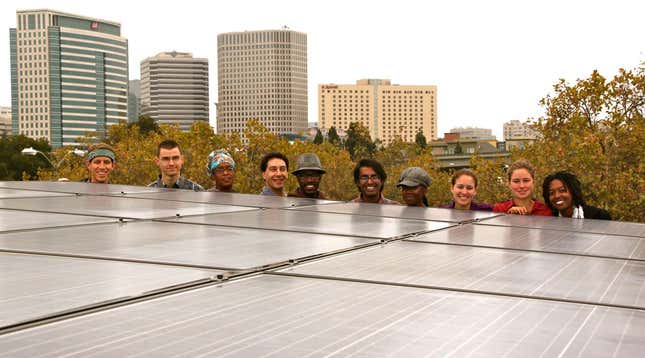 You might put your money into tech stocks or emerging-market bonds, but would you put it into solar panels?
We're about to find out. California regulators have authorized a startup called Mosaic to offer mom-and-pop investors the opportunity to finance $100 million in loans for solar projects through its online platform.
Most commercial photovoltaic rooftop projects have been financed by big banks and corporations like Google, so small investors have largely been shut out of America's solar boom. But that's likely to change after the end of 2016, when a 30% federal tax credit for solar projects, which attracted billions of dollars in investment from banks and corporations, falls to 10%. So developers are eager to find new ways to finance commercial solar projects.
Indeed, it's been financial innovation as much as technological breakthroughs that have driven the huge growth in solar installations in the US in recent years. (One example is no-money-down leasing for residential solar panels.) Mosaic's crowdlending service continues that trend, and is a variant on crowdfunding platforms that bypass banks and seek cash from individuals to support a startup or an artistic endeavor. But while someone who puts money into a Kickstarter project usually gets a product in return (a book, say, or a film, or a portable game console developed by a tech hobbyist), Mosaic investors receive a return on their investment. The first four projects have so far offered 4.5% per year, though the return isn't guaranteed on future investments.
Here's how it works. Mosaic, founded by former student climate change activists, selects and underwrites commercial solar installations. Potential investors register on the company's site, where they can shop for solar projects seeking loans. Once investors have reviewed the prospectuses, they can invest as little as $25.
In January, the California Department of Corporations gave Mosaic permission to offer three projects to investors. The owner of a 102-kilowatt installation in the San Francisco Bay Area, for instance, agreed to pay Mosaic 5.5% interest on the $92,250 loan it raised from its investors. Mosaic took a 1% cut as its fee and then returned the rest to investors. A local utility typically buys the electricity generated by a solar installation and those revenues are used to pay back the loan.
Those first three projects sold out in 24 hours.  Now that Mosaic has obtained the authority to finance up to $100 million in projects without prior review, the question is whether the two-year-old startup can attract enough projects and investors.
Mosaic today offered its first new project since getting regulatory approval on April 2. The company is seeking to raise $157,700 for a 114-kilowatt solar array to be installed on the Ronald McDonald House, a charity serving children with serious health problems, in San Diego. The expected return on investment is 4.5%. "We have multimillions of dollars worth of projects in the pipeline and expect to start rolling out projects on a more regular basis," Mosaic spokeswoman Lisa Curtis said in an email.