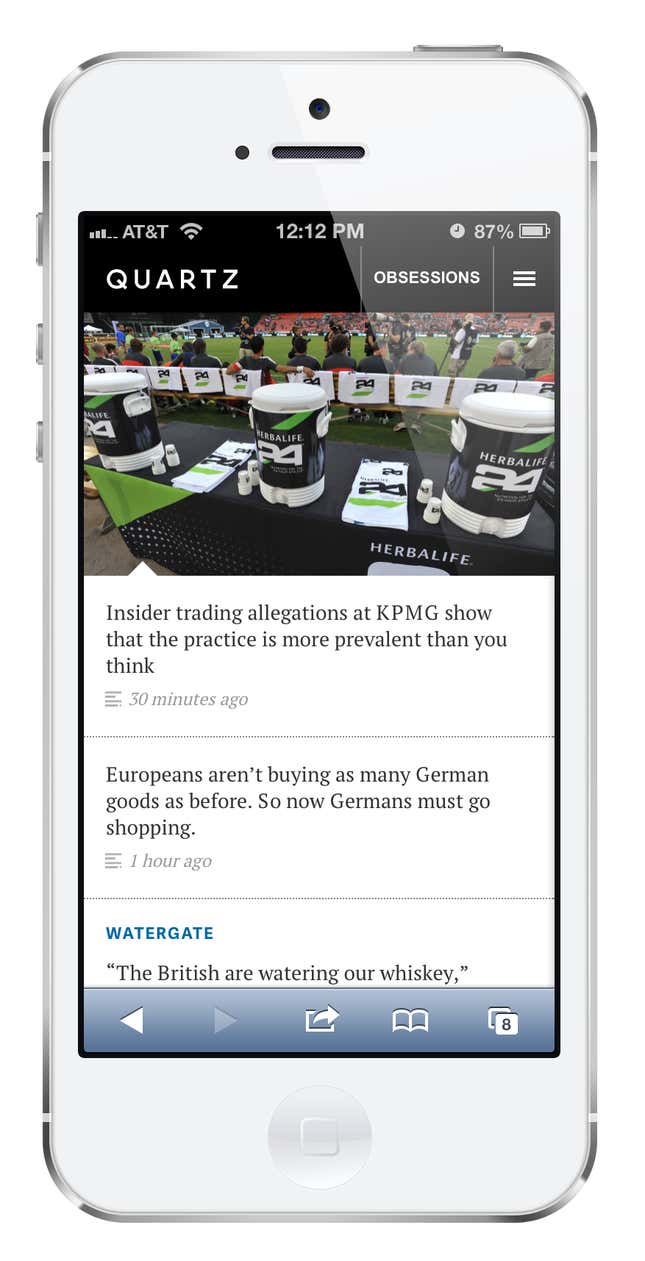 We've said from the start that Quartz is a mobile-first news organization, so it only makes sense that our first major redesign would be on your phone. Today we're excited to roll out two big improvements to the mobile experience of Quartz:
an update to the user interface, including more intuitive navigation, a cleaner design, and more emphasis on the images that make our stories shine;
offline support on mobile and tablet devices, so you can take Quartz with you on a plane, in the subway, or anywhere else you're not connected to the internet.
These changes reflect your feedback, our own aspirations, and data we've been collecting on mobile usage of Quartz since launching six months ago. The takeaways are clear: Keep it simple, put the content above all else, make it easy to share, and ensure that it all works for people on the go.
That last bit is why we're particularly thrilled to introduce offline support, so Quartz will always be close at hand, whether you have a signal or not. When you open qz.com, all of our top stories are now automatically saved to your device. Open the site back up when you're offline, and the stories will still be there. To make the most of this feature on iPhones and iPads, we recommend saving Quartz to your homescreen.
Today's redesign is the most visible change to Quartz since we launched, but we've been making improvements on a regular basis. In February, we quietly released a complete revision of the code that makes qz.com work, speeding up the site and expanding browser support to include Internet Explorer 6 through 8. We also rolled out a number of improvements for older Android devices.
One thing you won't find anywhere on the site are instructions or a walkthrough. Our goal was to make all of these features intuitive, and if they're not or if you have any other feedback, please let us know at hi@qz.com and support@qz.com (for technical support).
Now that we've tackled the mobile redesign, we'll soon be making similar updates to our desktop and tablet experiences, and we look forward to your feedback on those, as well.
Thanks for your support,
The Quartz Team