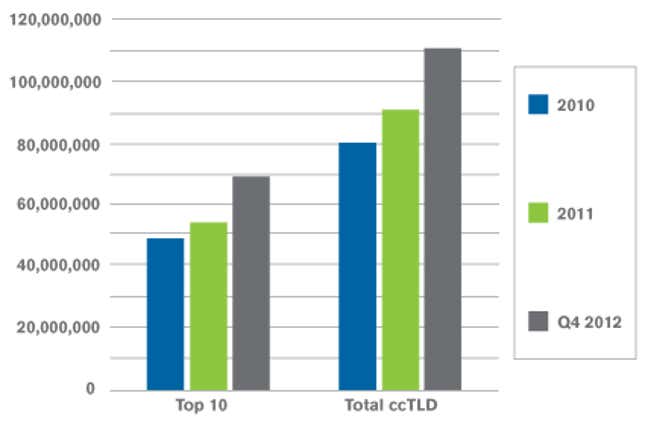 In the last three months of 2012, a total of 6.1 million new website names were registered on top-level domains such as .com, .net and others, according to a report from Verisign (pdf), which runs several name registries. That's 2.5% up from the previous quarter and 11.8% up from the previous year, bringing the grand total of web addresses to 252 million.
What is striking is that much of the growth is coming not from traditional top-level domains but from the 280 country-level domain names. Registrations for China's .cn alone grew by 31.5% in the fourth quarter of 2012. Of the 27 million new names registered in the past year, 19.6 million came from country-specific domains. In 2011, only about half of new names were registered to country-level domains.
The growth in this area can partly be explained by the growing demand for shorter URLs. For example, the Washington Post's short URL, wapo.st, is registered in São Tomé and Príncipe, Google's (goo.gl) in Greenland and lots of websites and apps in Libya (.ly).
Also driving the growth: the startup sector in emerging markets. The top 10 country-level domain names make up nearly two-thirds of all country-level registrations, made up of mature internet ecosystems such as Germany (.de), the United Kingdom (.uk), France (.fr), the Netherlands (.nl) and Australia (.au) as well as growing ones like Brazil (.br), Russia (.ru), and China. And most of the growth in domain name registration is coming from the same place as economic growth. Among the top 20, only four countries exceeded 4% growth, among them China (.cn), India (.in) and Russia (.ru), all countries with vibrant and growing startup scenes.
The only exception in the four to beat 4% is Tokelau (.tk), a territory of New Zealand with a population of 1,400. It has for years subcontracted its domain registry to an entrepreneur who provides the tiny Pacific island with a chunk of its revenue.