So much code to write, so few developers. The chronic talent shortage afflicting Silicon Valley is now all over the US—and the developers are too.
A study by the software trade group The App Association analyzed government and private sector data to map where software developers live, and it identified 223,054 open positions around the country. It found that most developers live far away from the technology epicenter of Silicon Valley, and job openings follow a similar pattern.
The upshot: Silicon Valley-style talent wars are moving away from tech hubs to smaller metro and even rural areas. Everywhere from rural Vermont to the middle of Montana is in need of programmers.
"You can find places where you didn't expect software developers to be, but they are part of the local economy," said association spokesman Jonathan Godfrey in an interview. "It's pretty much everywhere."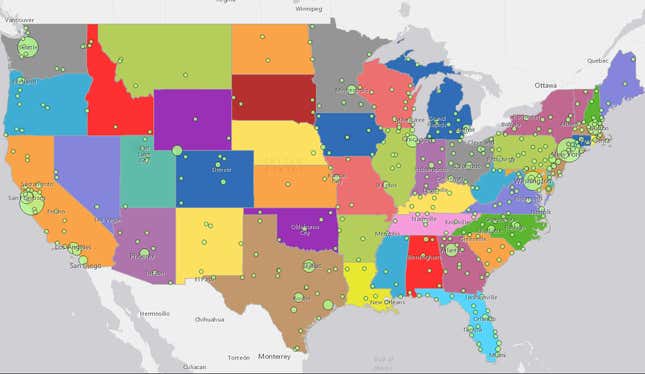 "Software developer" is now the most common job in four states (Washington, Utah, Colorado, Virginia), according to 2014 US Census Bureau data. Startups and tech giants are setting up outposts in lower-cost areas such as Seattle.
Enterprise, finance, and other tech-heavy sectors have been able to expand their footprints in their hometowns, and build out new offices in university towns with computer science graduates. And they're offering salaries that are far above local averages (the average salary for software developers nationwide is more than $104,000).
If developers want to hang out with other techy types, the largest metro areas are still the best bet. Boston, the Bay Area, Seattle, and Washington DC are at the top of the list. NASA also put Alabama on the map. Boulder, Colorado (population: 103,00) punches well above its weight, with a cluster of promising startups.
But rural and suburban areas are on the rise as well. Virginia, northern New Mexico, and central New Hampshire all have relatively high concentrations of developers. And places such as the Salt Lake City region are driving large demand, with 800 new developer positions open at companies including Fidelity, L3, and Raytheon.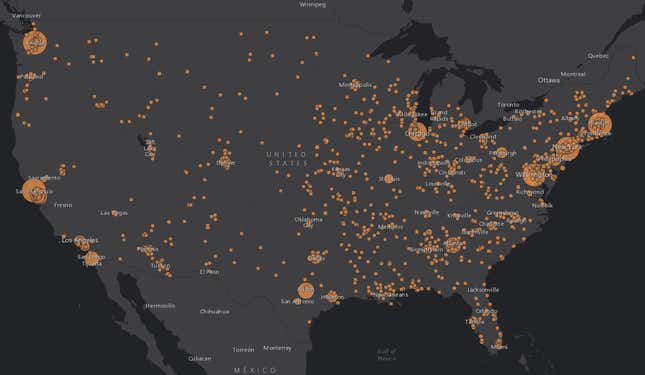 The App Association built its maps with data from the Bureau of Labor Statistics, the National Center for Education Statistics, the US Census Bureau, the AP College Board, and Glassdoor.