Crowded, sweaty subways. Delayed buses. Canceled trains. The general aura of pre-work angst. In cities around the world, the morning trek to the office via public transport is far from invigorating.
It doesn't have to be this way.
Cycling to work is often faster and cheaper than taking public transport, and, for the desk-bound among us, an opportunity for some fresh air and exercise at the start and end of the day. Cities around the world are making themselves more bike-friendly—but to benefit from that public investment, you need to get on your bike.
Still, many of us remain daunted by the prospect of negotiating roads busy with motorists and pedestrians, avoiding potholes, and trying not to inhale fumes—not to mention the risk of not making it to the office in one piece.
With a little planning and preparation, the commute on two wheels can be a safe alternative to the rush-hour subway (and a whole lot more fun, too). As Londoners and bike commuters, here's our guide on how to do it right.
Get kitted out
If you're new to cycling and you're investing in a bike, spend some time considering which type would be best for your needs. Bike enthusiasts will swear by their favorite type and brand of bike, whether that's a vintage cruiser, a folding bike, a single speed, a hybrid, or a road bike. It's worth discussing with your local bike shop which of these would suit you, your terrain, and your commute time.
It's also essential that your bike is adjusted properly to fit your body. Spending a day staring at a screen with post-ride back pain and tense shoulders is not fun. In London, many local bike shops offer fittings—they'll take your measurements and adjust the bike's saddle, handlebars and other components to make sure you're positioned comfortably and correctly. It's not always cheap, but it's a worthwhile investment.
Now you have a bike, some accessories are key. Invest in the following:
Lights
Locks (more on that below)
A helmet
A puncture repair kit
A bike rack to which you can attach panniers (side packs) can be much more comfortable than carrying your life in a backpack twice a day.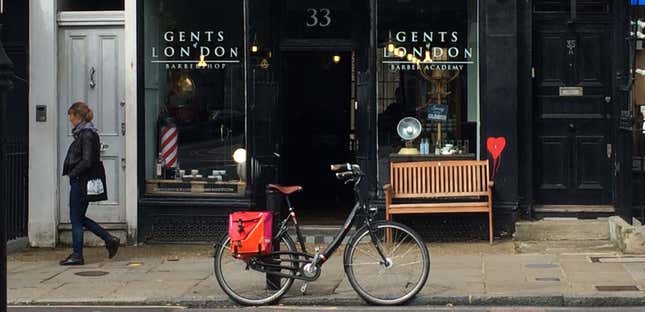 Ongoing bike care is also essential: Make sure the tires are pumped regularly, the brakes are working smoothly, and the chain is oiled.
Lock down
Plenty of workplaces these days have bike storage, or your office might not mind you bringing a bike inside and stashing it in a corner. If there's really nowhere safe to keep your bike inside or outside the building, you could consider a folding bike (which also has the advantage of being easy to store at your home).
If you're keeping your bike outside during the day, you need good, strong locks. In London and many other big cities, that means a powerful lock that can secure the frame and one wheel to something immovable, like a rack, and another lock that secures the other wheel to the frame so that is doesn't get stolen (you can even get locks to attach the seat to the frame).
Insuring a bike against theft isn't expensive, and a stolen bike might also be covered under your home insurance (this varies a lot by country and policy type, so make sure to check). The police will often offer free bike-tagging service, so that stolen bikes can be recovered.
Plan ahead
Since 2008, London has been developing miles of protected bike-only lanes, and cities from Minneapolis to Barcelona are building similar networks. Public bike-sharing initiatives saw a boom in 2013, with a 60% increase in the number of programs worldwide.
As bike routes are added daily, Google Maps can help you utilize whatever resources exist in your city. It allows you to view bike-dedicated and bike-friendly lanes so you can plan and map a journey that is quieter and calmer than taking the bigger, busiest roads to the office. It also offers an estimate of the time you'll need for your commute.
Ride the City also has route-planning maps for a variety of cities across the US, Canada, Australia, Spain, France, and handful of other countries. Type in your start point and finish point, and it'll offer you a safer and more pleasant route by bike.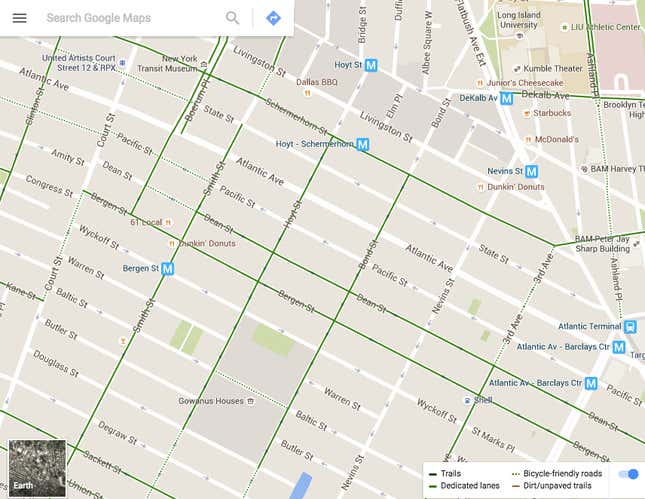 Ride safely
You can't control cars, other cyclists, and pedestrians on the road, but there's still plenty you can do to make your commute safer. If you're not an experienced city biker, check your local authority for cycling proficiency and safety courses on offer. (If you're in London, these can be found here, and Bike New York offers free classes here.)
When you're on the road, be aware of your surroundings and considerate of others. Get used to looking around you for pedestrians crossing, motorists coming behind or planning to turn, and other cyclists who might overtake you. Get in the habit of making eye contact with motorists so they're aware you have seen them, and you're certain they've seen you.
It might be tempting to think otherwise, but the rules of the road apply to cyclists, too. Indicate when you plan to turn, and don't jump red lights. Above all else, never overtake trucks or buses on the inside, because it's impossible for the driver to see you when you're in that spot. (In London, it is estimated that over half of cyclist fatalities involve trucks.) Keep a safe distance from the rider in front of you in case they brake quickly, and ride more slowly if the weather's wet, to avoid slippery falls.
Dress the part
No one wants to step into the office sweaty, frazzled and desperate for a shower. To avoid that, ride to work in gym gear or shorts and a t-shirt, and keep a change of clothes at the office. The same goes for shoes: Spending the day walking around the office in rain-soaked kicks is not pleasant.
It's also worth investing in waterproofs you can peel off at work after a ride on a rainy morning. When riding in the winter, a thin thermal cap that fits nicely under your helmet and gloves are essential. Reflective jackets are useful when riding at night.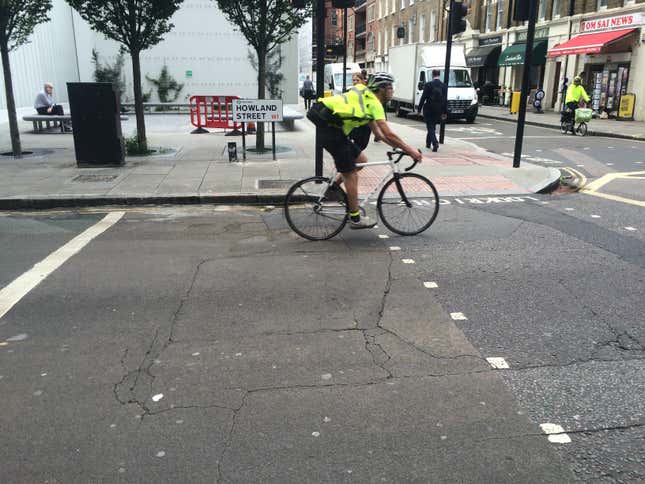 Don't be afraid to ask for help
One of the safest and most enjoyable ways to get used to riding in the city is to do it with someone else. If you have a colleague or friend who commutes regularly by bike, tag along with them for a first-hand experience and ask their advice on best practice. There's nothing like learning on the job.
The online cycling community is also great place to turn to. There is a wealth of forums and blogs if you have queries, want to find out about events, or are looking to buy or sell bike parts.
For more immediate help, a passing cyclist will very often lend you a pump, or even a puncture repair kit. To pay it forward, do your bit for those you encounter on and around the road: Don't cycle on pavements or prioritize speed over courtesy or carefulness.
Fuel up
Depending on how you ride, cycling can be very aerobic (where your breath quickens and your pulse races), or it can be slower, steadier and more sustained—the kind of exercise believed to be best for weight loss. Both are great, and both take energy.
Foods that release energy quickly like simple carbohydrates—toast, bananas, and smoothies—are all good in the morning before a ride (one of our favorites: sourdough toast with peanut butter). Protein-rich meals are great after you exercise because the protein helps tissue repair. Complex carbohydrates that release energy more slowly—like vegetables and grains—are also good. And a bowl of muesli and fruit at your desk can be a great reward after the morning ride.
Hydration is also important. Get a bottle holder for your bike, or drink plenty of water when you arrive. (OK, it's the morning, so you can have coffee too.)
Everybody sweats, sometimes
Lots of people avoid cycling because they don't like the thought of arriving at work hot and sweaty. Change that mindset. Anyone who enjoys exercise knows its fine to get sweaty in the right context (and if you're not someone who enjoys exercise, cycling is a good way to get into it).
The key is not spending the day in dank, malodorous clothes.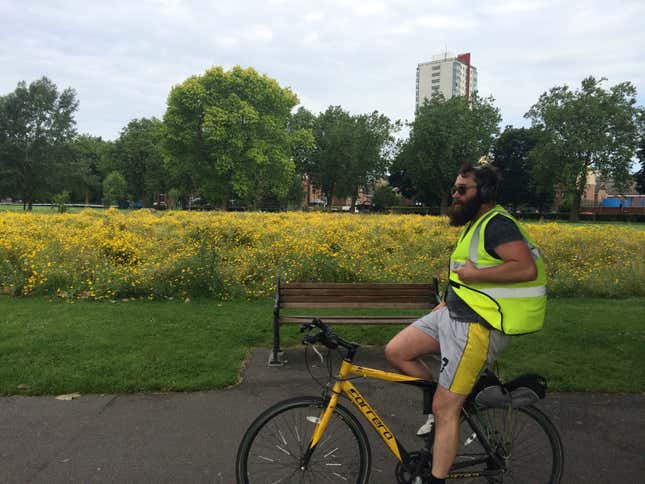 First step is to find out whether your workplace has a shower: Many buildings do, though it might not be on your floor, or well advertised. Some great ones even have lockers where you can leave towels and products.
If there's no shower at work, seek out a local gym or swimming pool. Not paying for transport every day can offset the cost of membership. Even if the gym is a mile from work, you have a bike! Shower, change, and coast the rest of the way at a gentler pace.
If showering really isn't an option, a less fast-paced ride followed by a change of clothes can be fine. Remember that as your body gets used to cycling, you'll be able to do it with more ease each day.
Remember: You are not a slave to cycling
No one's going to force you to ride in every day. A good way to get started might be to ride once or twice a week, and build up until it's a regular habit.
Also, remain flexible. Plans change, and suddenly you're going out for the evening. That's fine. Just leave your bike at work, take the bus home, come in by public transport in the morning and then cycle home the next day. Keeping some evening clothes and shoes at the office can help the transition.
Ready? Now soak up the benefits
First, you never have to spend another minute in the sweaty, unreliable, cramped spaces of buses and underground rail networks. Second, your commute becomes a useful time to exercise, so you no longer have to plan early morning or late evening gym sessions.
A bike ride to work also makes it easy to stop off and run errands—pick up your dry cleaning, post a letter, buy a bottle of wine for the evening. Everything's quicker on a bike.
Best of all, your ride offers you a chance to soak up the sights, smells, and sounds around you. With the right clothes and the right bike, there are few days when cycling doesn't hold some pleasures. Cycling throughout the year in London, even on the occasional soggy morning, we are constantly astounded by the beauty of the city.