A truck crashed into a crowd gathered to watch Bastille Day fireworks in Nice, France, on the evening of Thursday, July 14, causing a gruesome scene of carnage and crumpled bodies.
The death toll, initially estimated at some 30 people, has been rising; a Ministry of the Interior source told Le Figaro that 80 people were dead, and dozens more are reported to be in critical condition.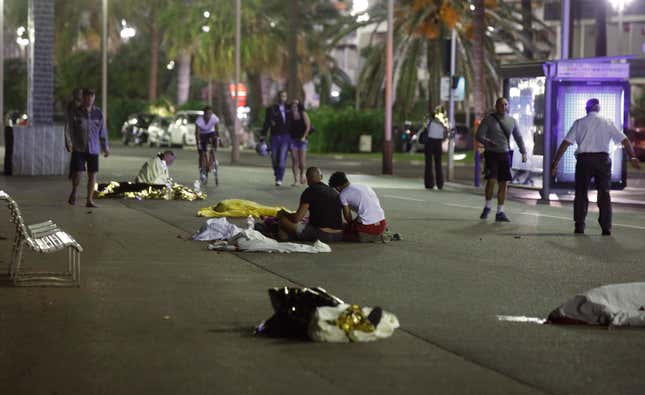 Police official Sebastien Humbert told French broadcaster BFM that the truck driver was shot dead by the police, suggesting a intentional attack rather than an accident. The truck rolled a distance of 2 kilometers (1.2 miles) through the crowd, according to FranceInfo. Crowds were gathered on a beachfront promenade in front of several popular hotels.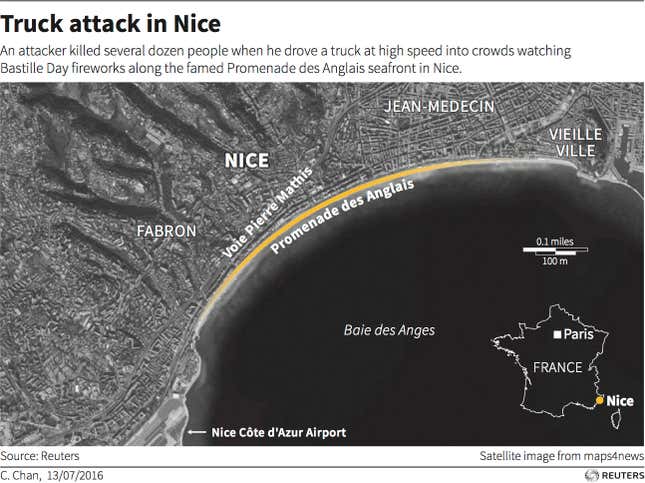 French president Francois Hollande said early Friday morning that the attack "undeniably, has terrorist characteristics." He added that "the entire nation of France is under threat by terrorism." France will call up its military police reserves for additional border control, he said, and will gather a defense council tomorrow to discuss action in Syria.
The driver was a 31-year-old man from Nice of Tunisian descent, according to an ID card found in the truck, BFM TV reported (French).
The anti-terrorism unit of Paris's public prosecutor has taken over (French) the investigation. US president Barack Obama condemned "what appears to be a horrific terrorist attack."
A witness told the Associated Press that the driver emerged from the truck with a gun and opened fire before he was killed. According to an eye witness interviewed by Le Figaro, the truck came from the southern end of the promenade, which was only open for pedestrians, and "ran over all that was on its way, like a game of bowling."
Damien Allemand, a reporter for Nice Matin, was on the scene at the beachfront Promenade des Anglais, in the city center, when the accident occurred about 10:30pm local time. He said people ran away in panic as the truck hit the crowd, leaving "lots of people bleeding, surely many injured." Allemand has published a brief account in French on Medium.
Several witnesses have shared videos of crowds running away in panic, as well as pictures showing a trail of bodies left lying on the ground after the track hit. (Warning: graphic images)
Several Twitter accounts have been set up to broadcast images of people who are still missing hours after the tragedy.