France has suffered its third large-scale terror attack in 18 months, after a man drove a truck through a large crowd in the southern French city of Nice, killing more than 80 people.
At 11:42 pm local time on July 14, a white truck rammed into a large crowd which had gathered to celebrate Bastille Day, a French national holiday. The death toll kept rising overnight, and as of 9.30 am the next morning, 84 were dead, at least 18 people in an extremely critical condition, and over two dozen more in critical condition. The dead included about ten children.
The crowd had gathered on Promenade des Anglais, on the city's beach front, after celebrating the French national holiday and watching the Bastille Day fireworks on the beach. The truck plowed into a large crowd and drove for 2 kilometers (1.2 miles). Eyewitnesses say the driver fired shots at the crowd while he was driving.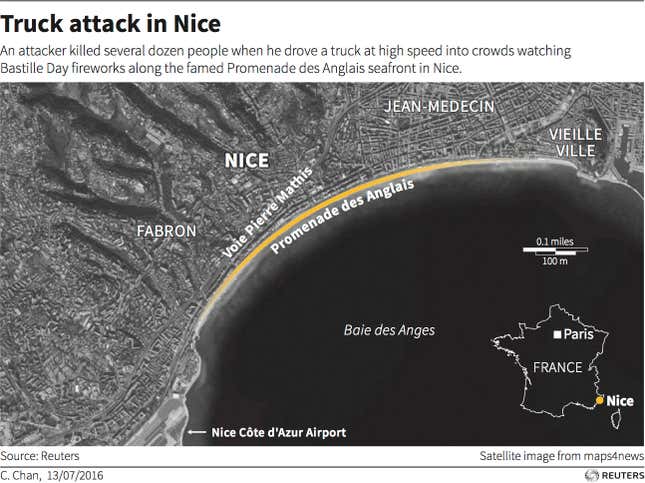 The truck driver
An identification card found in the truck shows the driver to be a 31-year old man, Local French newspaper Nice Matin reported.  The man was driving a rented vehicle, and had committed small crimes before, including violence and the use of arms, but had no known connection to terrorist groups, police sources told BFM TV.
The man was using a 7.65mm pistol, the television network said. A long firearm found in the truck was a fake, and a grenade inside it was not functional, AFP reported.
The driver was eventually shot dead by police, according to BFM TV. Photos show dozens of bullet holes on the truck windshield.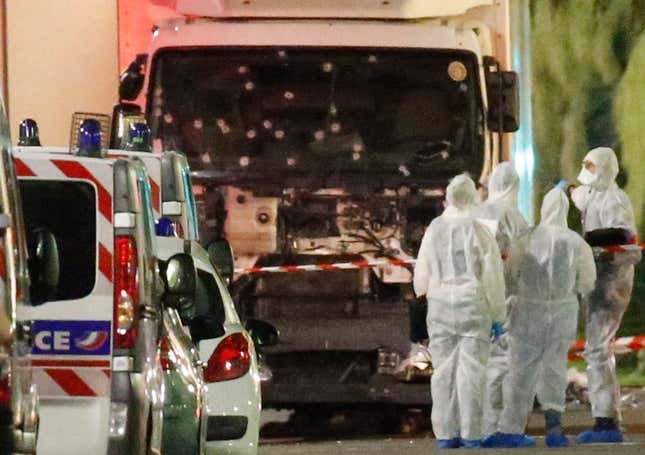 France's reaction
Although no organization has yet claimed responsibility for the attack, François Hollande, the president of France, said in a statement on French television that "the terrorist characteristic of this attack is undeniable," but it is unclear at the moment whether the man acted alone or with help.
"France is struck on the day of its National Day, on 14th of July, a symbol of freedom and liberty, human rights denied by these fanatics. France is obviously their target," he added.
Bernard Cazeneuve, the French interior minister, traveled to Nice, while Hollande  and prime minister Manuel Valls convened in the crisis room in the Ministry of Interior in Paris.
It is the third major terrorist incident in France in less than two years. There have been a total of seven attacks in that time in the country, in which 230 people have been killed.
In January of 2015, attackers killed 20 people in Paris, including cartoonists from Charlie Hebdo and several hostages. In November 2015, a series of coordinated attacks in Paris left 130 dead and many more injured.
France's state of emergency, which has been in place since the Charlie Hebdo attacks, will be extended for another three months. It had been due to be lifted on July 26.
France will continue its military actions in Syria and in Iraq, Hollande said. He had announced a day earlier before the most recent attack that the French military would reinforce its support for Iraqi forces in the fight against ISIS.
What we don't know
The identities of the victims are beginning to emerge. Friends and relatives are circulating photos of people who were in Nice that they can not contact, but no official list of victims has been released.
We don't yet know what the attacker's motives were and whether he operated alone, with accomplices, or connected to any terrorist groups.
It's not yet clear whether the French authorities knew of any specific threat Prior to the Nice attack. A July 5 parliamentary inquiry into French security forces' counter-terrorism capacities after the Bataclan attack found evidence from as early as 2009 which hinted at a possible attack against a concert venue.