Who needs a TV anymore? At a time when we're surrounded by screens—computers, mobile phones, projectors—the single-purpose black box that was once the centerpiece of every US home has become optional, if not obsolete. And that's especially true for city dwellers in tiny urban apartments, where every surface is precious.
French designers Ronan and Erwan Bouroullec tackled this very question when commissioned to design a TV for Samsung, as Erwan explained at the July 13 launch event at the Museum of Modern Art. Their opening salvo in the fight to save the TV from extinction: the SERIF, a multi-purpose minimalist box that blends in with the rest of one's furniture.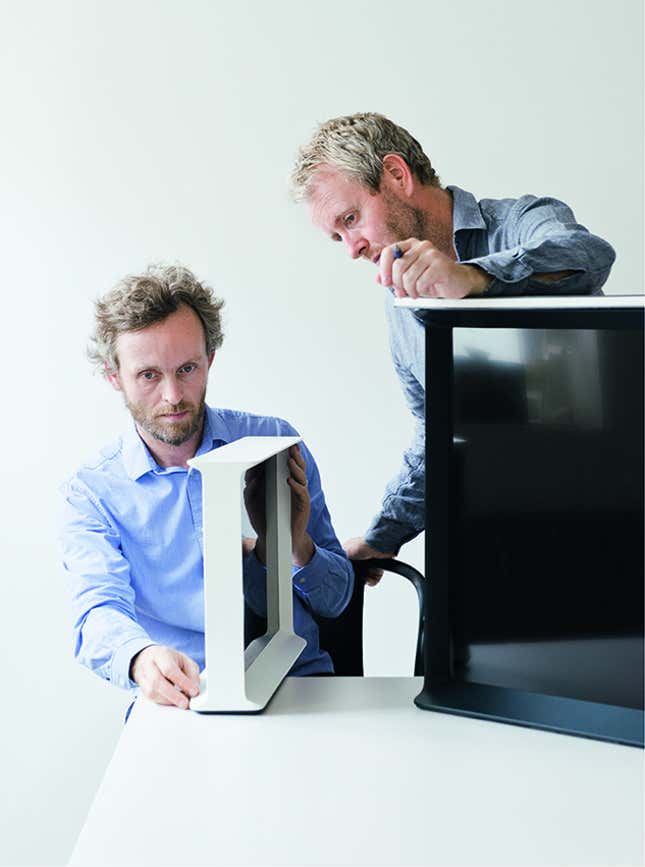 True to their reputation for mixing high tech with traditional, the Bouroullec brothers, who have several objects in MoMA's permanent collection, have designed a TV that works more as a piece of furniture rather than a hulking piece of electronics.
Detachable legs allow the flatscreen to be positioned in the middle of the room, while a printed fabric panel hides wiring in the back. When the legs are detached, the SERIF slips in a discreet, shelf-like digital picture frame.
The unit is meant to be much more functional than the traditional television: An extruded capital letter I around the high definition screen, the top of the television functions as a handy ledge for keys, books, knick-knacks—or cats. A button on the SERIF's white remote control activates a "curtain mode" like a screensaver or a filter. Designed by the Bouroullecs with graphic designers and user interface designers, the mind-clearing abstract animation and sans serif typography transform the TV to a music player, an app browser or even a tasteful digital clock.
"We tried to give this technological object a charming quality that you'd be happy to live with," explains the elder Bouroullec, Ronan in the product video. Unlike Samsung's first design-driven partnership with high-profile designer Yves Behar last year, the Bouroullecs insisted on veering away from the usual techy black box formula. "There was no more language, a black flat screen is a black flat screen," said Erwan to Dezeen.
With the SERIF launching in the US in August, several design aficionados are already tweeting about the designer TV in their perfectly-styled homes.
The Samsung SERIF launched in Europe last year in three sizes and colors but only the largest 40″ unit will be initially available in the US explains a Samsung spokesperson. Priced at $1,500—or about five times the price of similar units—don't expect to find the designer TV in big box electronics stores. It's available via the Samsung website, the MoMA store and other design-focused furniture shops like Vitra and Bo Concept.