The Republican National Convention, which kicks off in Cleveland, Ohio today (July 18), may have already had its biggest celebrity appearance.
On Sunday, as organizers appeared to be setting up for the event, CBS Late Show host Stephen Colbert took the stage at the Quicken Loans Arena—unannounced—and mocked presumptive Republican presidential nominee Donald Trump in an outlandish getup inspired by the Hunger Games films.
The comedian began by announcing Trump's pick for the Republican vice presidential nominee, pronouncing that he has "formed an alliance" with Indiana governor Mike Pence, then letting his head droop forward for a few seconds. He quickly apologized, and explained that he had "blacked out there for a moment."
Channeling outlandish Hunger Games' emcee Caesar Flickerman, down to the coiffed blue hairdo, and clasping a small furry creature in his hand, Colbert then declared the start of the "2016 Republican National Hungry for Power Games," which is how he refers to the GOP race on his late-night talk show.
The stunt lasted less than a minute, as Colbert was then escorted off stage by security, but not before getting in one final jab. "Look, I know I'm not supposed to be up here," he said, "but let's be honest, neither is Donald Trump."
At another point during the day, the talk show host was also spotted donning a patriotic sequin vest and straw boater hat on the convention floor while taping his CBS show, the Associated Press reported.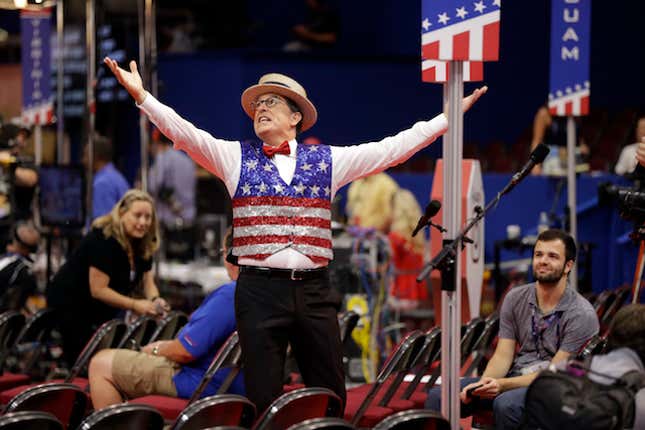 Speakers including venture capitalist Peter Thiel and Ivanka Trump will be making their way to Cleveland this week for the "Make America Great Again" convention, which runs through July 21. But none of the celebrities lined up so far, including Scott Baio, soap opera star Antonio Sabato Jr., and Duck Dynasty's Willie Robertson, are quite as high-profile as Colbert—except, perhaps, the presumptive nominee himself.