This article was updated.

Television executive Roger Ailes is leaving Fox News, after nearly two decades at the network's helm, amid an internal investigation into claims that he sexually harassed female employees.
Ailes is in "advanced stages of discussions that would lead to his departure as chairman" with Fox's parent company, one of his lawyers, Susan Estrich, told the New York Times on Tuesday (July 19). The Wall Street Journal also reported Fox was negotiating Ailes' exit with his legal team.
Estrich, who is a partner at Quinn Emanuel, a Los Angeles law firm, and a Fox News contributor, told The Hollywood Reporter Ailes was negotiating an exit agreement, but that what it would look like was unclear. "Exit agreements can take all kinds of different forms, including agreements that provide for continuing roles," like a consultancy, she said.
Speculation has swirled about his future all week.
According to a draft document that was obtained and shared by Drudge Report founder Matt Drudge on July 19, only to be quickly deleted from his Twitter feed, Ailes would depart the 21st Century Fox-owned cable network on July 22, with a golden parachute worth roughly $40 million. The document says he would continue providing "advice and services" through June 2017, as requested by 21st Century Fox executive chairman Rupert Murdoch.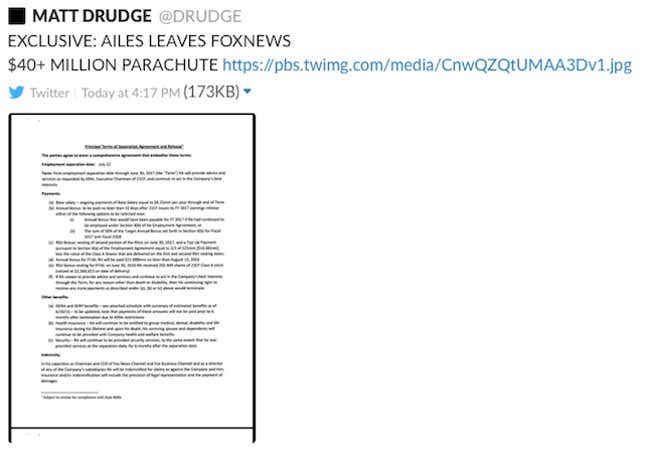 A July 18 story in New York Magazine said that Murdoch and his son Lachlan, who serves as his co-chairman, as well as his son James, who is the company's CEO, agreed that Ailes had to go. That report cited two anonymous sources familiar with the sexual-harassment probe against Ailes.
After the document tweeted by Drudge began circulating, 21st Century Fox issued the following statement:
Roger is at work. The review is ongoing. And the only agreement that is in place is his existing employment agreement.
Ailes, who is 76, was accused in a July lawsuit of making sexual comments and advances toward former Fox News anchor Gretchen Carlson, who claims she was fired after refusing his advances. Since then, other women who claim they were propositioned or otherwise harassed by Ailes have come forward, including one woman who was allegedly asked if she was wearing panties while jumping on a trampoline at a company barbecue.
21st Century Fox launched an internal review after the lawsuit was filed against Ailes, saying in a statement that he had "served the company brilliantly for over two decades."
James Murdoch reportedly wanted to give Ailes the option to step down or be fired this week, while his father and brother preferred to hold off until this week's Republican National Convention was over.