Wife, mother, skincare magnate, jeweler, and humanitarian Melania Trump took the stage at the Republican National Convention Monday night (July 18) to support her husband, the presumptive Republican nominee for US president, Donald Trump.
She looked every bit the former model, towering and svelte, with an unmoving face that brought new meaning to the word "statuesque." Her speech gave little away—besides the impression that someone involved in its crafting had given an awfully close read to current first lady Michelle Obama's speech at the 2008 Democratic National Convention—though Trump did note that her "elegant and hardworking mother" introduced her to fashion and beauty. (From her father, she inherited her "passion for business and travel.")

According to WWD, Melania applied her adept fashion sense by picking out her own outfit for the RNC, instead of working with a stylist. (Trumps! They're just like us!) She wore a form-fitting, off-white dress by the London-based Serbian designer Roksanda Ilincic, purchased from the e-commerce site Net-a-Porter.
Ilincic's name might sound familiar because celebrities including Emma Stone and the duchess of Cambridge have worn Roksanda dresses, or because it appeared in the Panama Papers. The dress, which appears to have had a retail price of $2,190, promptly sold out following Melania's appearance, as have many of the dresses worn by America's current first lady.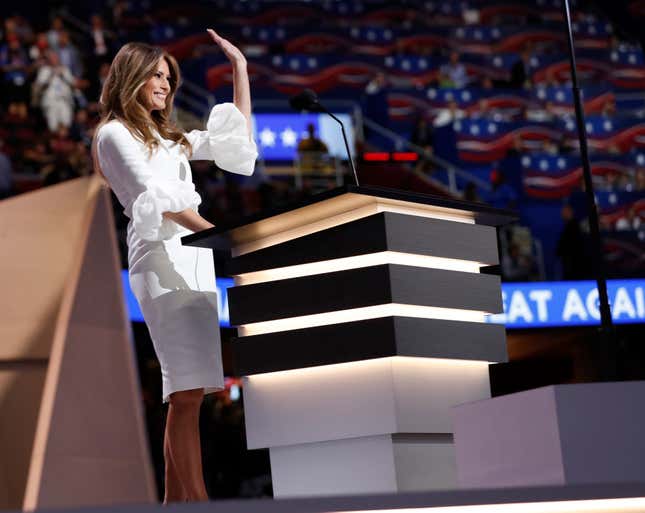 You might be wondering what's happening with those sleeves. Céline designer Phoebe Philo created a fashion frenzy for taut sleeves with exaggerated, rounded bells when she sent them down the runway in March 2015. Originally, the Roksanda dress echoed that shape quite closely, but Trump appears to have customized hers. A closer look at the first lady-in-waiting's sleeve reveals more of a bubble hem than a bell—which some might interpret as an RNC-appropriate nod to the 1980s.
If you're really feeling this dress, it's still available as a regal gown for $2,350—or, for just $1,400 you could get a hot pink piece of fashion history. But keep in mind, that one would be mostly polyester.