Just about every major computer company has jumped on the tablet-that's-almost-a-laptop bandwagon at this point. Apple has the iPad Pro, Microsoft the Surface, Samsung the TabPro S, to name a few. Now, Chinese telecom giant Huawei has thrown its hat in the ring: The company's MateBook tablet went on sale in the US July 11.
Huawei has been criticized in the past for releasing gadgets that seem to confirm a Western assumption about Chinese tech companies—that they manufacture knock-offs of popular products lacking the quality or durability of the things being knocked off. By rolling out its smartphones in the US over the past few years, Huawei has been trying to change that perception, and its MateBook tablet is intended as a resounding show of competence. Huawei would like to identify itself as part of a band of Chinese companies, including drone manufacturer DJI, search giant Baidu, and internet company Tencent, whose products can stand on their own against any comparable offerings from the West. 
Quartz tested out—and wrote the entirety of this review on—the MateBook for the last few weeks. Here's what we thought:
What's good
The screen. The 12-inch HD screen looks great, whether you're working on spreadsheets or watching a movie on Netflix. It also has a wide viewing angle, meaning it's actually a decent portable device for watching movies or TV with friends.
It's (kind of) a laptop. This is silly, but for me, it was kind of a big deal: Most tablet-keyboard case combinations only work on flat surfaces—it's literally in the name of Microsoft's tablet line—meaning that you can't use them on your lap or anywhere not particularly level. The obvious answer to this problem is that you can hold these tablets in your hands, but it's not always comfortable to do that for long periods of time. The MateBook, with its keyboard case attached, actually works on your lap. It's not as sturdy as a proper laptop, but it'll definitely work for a couple hours—or until the battery dies.
It's portable. One of the biggest selling points of a tablet over a traditional laptop is its weight and size. The MateBook is no exception, weighing in at only about 640 grams (about 1.4 pounds). If you shell out for the additional keyboard case, you can wrap the MateBook in its squishy, leather-esque hide and tote it around easily. (The keyboard case is apparently also water-resistant, according to Huawei, but I didn't test that claim.) That being said, the case's ability to transform into a keyboard and stand is a bit awkward—it'll probably take you a few times to figure out how to prop up the tablet properly.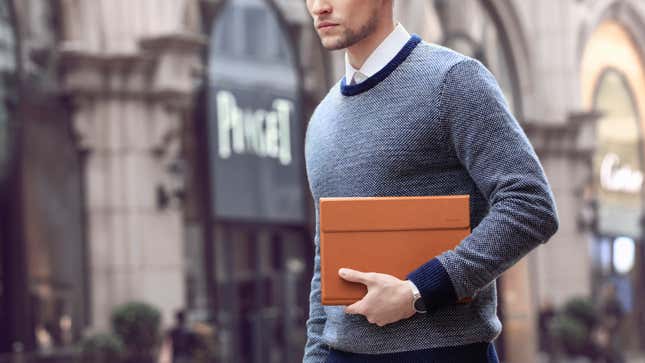 The construction. As hinted at above, this feels like a sturdy, well-built device. From the packaging down to the hardware, the MateBook may be trying to mimic Apple's decades of success in the hardware space, and it's not far off. (Though Apple would almost certainly never pair a white device with a brown leather case. It looks like a Holstein cow.)
It's a full-fledged PC. No mobile versions of apps or games here—if you want to run Photoshop or World of Warcraft, you can. The MateBook runs Windows 10, so any program that won't be too much of a drag on the processor should run fine, meaning you'll have the same experience answering emails, writing documents, creating spreadsheets, and browsing the web as you would on a full-fledged laptop.
What's not so good
The keyboard case. While the keys are probably the best I've come across on a tablet keyboard attachment—I'd go as far as to say they're even better to type on than some flagship laptops', including new MacBook—it's still not great. Writing this post, I made far more typos than I usually do, which slowed me down as I worked. I also found the case's built-in touchpad mouse rather inaccurate; oftentimes I would just poke the screen to get the cursor where I wanted it to be.
The battery life. It's not ideal: If you're planning on replacing your laptop with the MateBook, make sure to carry the charger with you wherever you go. I tended to get between three and four hours of charge when using the tablet with the brightness turned all the way up, running just a few programs.
It's running Windows 10. Whatever you think of Microsoft's latest operating system, it's safe to say that it hasn't been optimized for tablets. The software runs smoothly on the MateBook, but a lot of on-screen icons are still too small and fiddly to tap accurately every time, even in the OS's "tablet mode." For example: You can run Excel on the MateBook with ease, but good luck doing anything complex. Also: Cortana, Microsoft's virtual assistant, didn't understand me at all.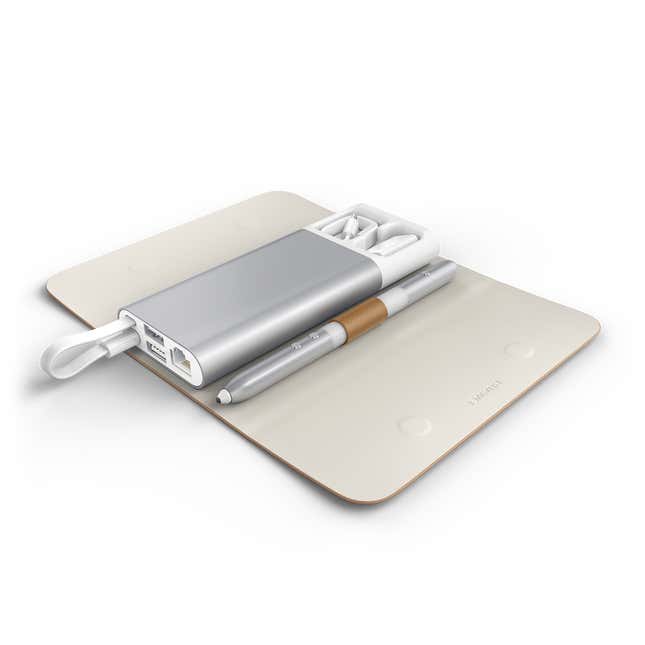 Awkward ports. Rather like the newest MacBook, the MateBook only has a single USB-C port for peripherals and power supply. For $89, Huawei sells a little box called the MateDock, which plugs into the USB port and gives you HDMI, VGA, and ethernet ports, as well as two additional USB ports. But then you have to carry around this vestigial little box wherever you're taking your tablet, which seems more cumbersome than just using a laptop. Also: When the MateBook is docked into the keyboard, the headphone jack is on the top-left of the device, and when headphones are plugged in, the cable tends to drape in front of the screen, which is a bit annoying.
The speakers. Although they're relatively loud for a tablet, they're exceedingly tinny.
It's not cheap. The MateBook starts at $699, which is pretty reasonable for a powerful tablet like this. But for that price, you're getting a relatively slow Intel Core m3 processor, 4 GB of memory, and 128 GB of storage. If you want to bump up to a faster m5 processor, and double the memory and storage, you're looking at a price tag of $999. There's also a version with 512 GB of storage that costs $1,199. But factor in the price of a keyboard case, a MateDock, and if you want it, Huawei's stylus, and even the base model will run you $976, which is about how much you'd be able to spend on an actual, powerful Windows laptop.
Should you get one?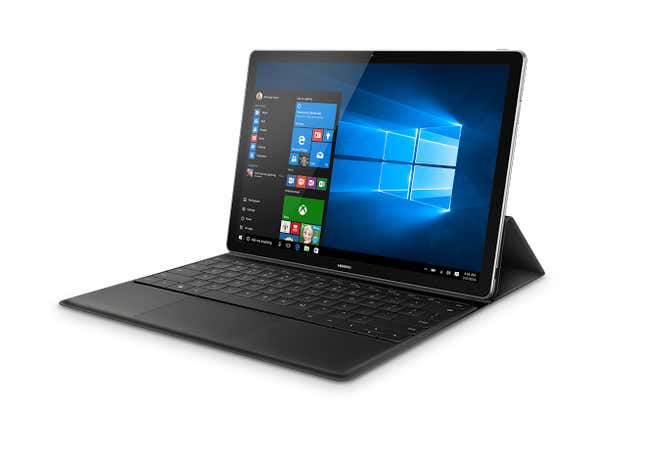 If you're in the market for a powerful tablet and you're not a fan of the Microsoft Surface line, then the Huawei MateBook is a worthy contender. But to get power and productivity from this device you're going to have to spend a fair amount of money, which begs the question of whether it's just better to get a laptop. For about the same price as the base MateBook, with all the peripherals included, you can buy a far more powerful Dell XPS 13 laptop, which reviewers have been enjoying. It ultimately comes down to whether a touchscreen really matters to you.
The MateBook really is a good device, but given the price, it's not clear that it's a device anyone actually needs. It does show, however, that Huawei knows how to make some solid computing hardware. Whether the company will be able to successfully sell that hardware, and any future tech, in the US remains to be seen.