Stories of gun violence feels ubiquitous in the US. Before people are done mourning the death of one victim, others suddenly appear. In the era of mass shootings, it's easy to forget how many people die on an average day in some cities.
In the US, 2.9 people per 100,000 are killed due to gun violence, killing more than 13,000 people last year. A Mexican artist has created a striking monument to honor these often forgotten victims of daily gun violence.
Teresa Margolles, whose work has predominantly focused on violence from organized crime, has built a 20-foot-wide concrete memorial in Echo Park, Los Angeles. The memorial honors the 100 homicide victims in Los Angeles killed on public streets since January 2015.
The memorial, called La Sombra (The Shade) offers visitors a place to rest and reflect. Margolles and her team researched and visited homicide sites, then poured buckets of water on parts of the street. They then sponged the residue from the drenched street.
The residue was eventually used in the making of the monument.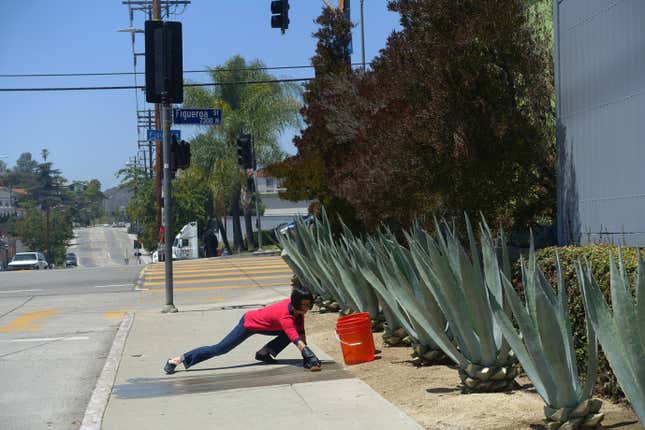 The monument will be opened to the public on Friday as part of LA Water, a city-wide exhibition run by Los Angeles's Department of Cultural Affairs. The biennial event will take art of museums and feature temporary projects at outdoor locations.
The projects usually focuses on pressing issues that affect big cities like LA—the theme is water this year, which is timely as California is experiencing its worst drought in 1,200 years.