On Tuesday (July 19), Donald Trump was formally nominated as Republican candidate for the US presidency, and the Los Angeles street artist known as Plastic Jesus decided to produce an artwork to mark the event.
The artist, who has been referred to as "the Banksy of LA" and whose most famous works include road signs reading "No Kardashian parking anytime" and "No Trump anytime," decorated Trump's star on Hollywood boulevard with the candidate's favorite architectural element: a wall.
A miniature wall to be exact, six inches high, complete with minute barbed wire, tiny "keep-out" signs, and even an American flag.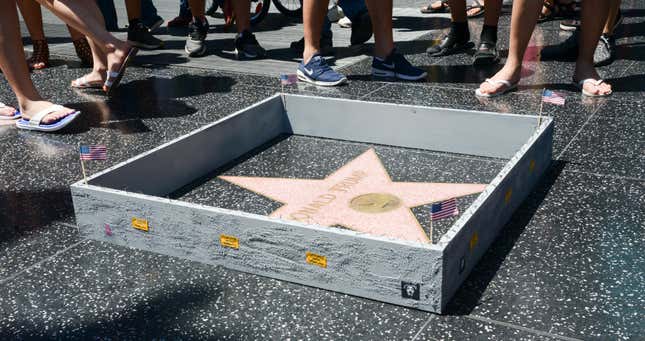 Unlike Trump's much-advertised wall, there is no reason to believe Mexico paid for this tiny replica, which the Associated Press reported was gone by the following morning.
Plastic Jesus isn't the first artist to be inspired by Trump's Mexican wall promises. Earlier this month, David Gleeson and Mary Mihelic created an installation consisting of a slice of wall right by the US-Mexico border, in Jacumba Hot Springs, California. The bill, the artists said, was sent to the president of Mexico as part of the performance.