It seemed inevitable a Pokemon movie was on the horizon, given the early success of Pokemon Go.
After a bidding war that reportedly lasted months, The Pokemon Company has reached a deal with Legendary Pictures, a subsidiary of China's Dalian Wanda Group, to make a live-action Pokemon movie, the companies said July 20.
The film will be the first in the "Pokémon live-action film franchise," and will be based on Detective Pikachu, a deerstalker hat-wearing Pikachu that has already appeared in a video game in Japan, Legendary said in an emailed statement.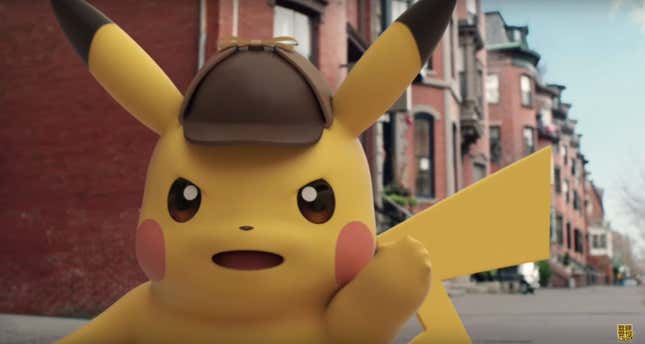 The film will begin production in 2017, Legendary said, but "further details of how his story will be told are being kept under wraps for the moment." The film will begin production in 2017, and Universal Pictures will distribute it outside of Japan.
For Wanda, which purchased Legendary Pictures for $3.5 billion in January, the film will be a second attempt at a global, English-language blockbuster. The conglomerate recently had some success with Warcraft, a Legendary film based on the video game World of Warcraft. The movie broke box-office records in China, though it bombed in other markets.
Importantly, Wanda is now also the largest movie theater company in the world.
Wanda owns the largest movie theater chain in China, with 292 cinemas and 2,557 screens across the country, as well as the largest movie theater chain in the US, AMC. AMC is in negotiations to buy Carmike Cinemas, and will have 8,300 screens in 600 theaters when the deal closes. Wanda is also reportedly bidding to purchase a minority stake in Paramount Pictures. 
The Pokemon movie's production will be unusual, because it partners Japan's Pokemon Company and a Chinese-owned studio, a rare combination.
Following territorial disputes between the two countries over the Senkaku Islands, the Chinese government banned Japanese productions from movie theaters in 2012. When the ban was lifted three years later, a film starring Doraemon, a cyan-hued Japanese cat, smashed Chinese box office records.
Chinese financing might mean that Pokemon monsters suddenly start practicing kung fu, or that Pokemon trainers take an unexpected foray into an ancient Chinese temple.  Most of the recent Hollywood-China co-productions feature Chinese actors or a few China-centric scenes—or in the case of Transformers 4: Age of Extinction, gratuitous product placement for domestic brands.