Facebook wants to bring internet to the most remote parts of the world, and the first part of its plan to do so has taken flight. A massive, foreboding wing-shaped drone, nicknamed Project Aquila, recently completed its first test flight in Arizona, Facebook announced today.
Nearly a year ago, Facebook said it would test its drone somewhere in the US, but has yet to confirm where. The team had been testing a small-scale model of the drone for months, working out kinks, before testing the real deal. The full-sized, carbon-fiber drone is solar-powered, and has a wingspan comparable to a Boeing 737 jet. The goal is to have a fleet of drones like these flying between 60,000 to 90,000 feet at all times, receiving internet data from a base station via proprietary laser connections, and beaming that data down to customers. Facebook wants the drones to be able to stay in the air, powered by just the sun, for months at a time.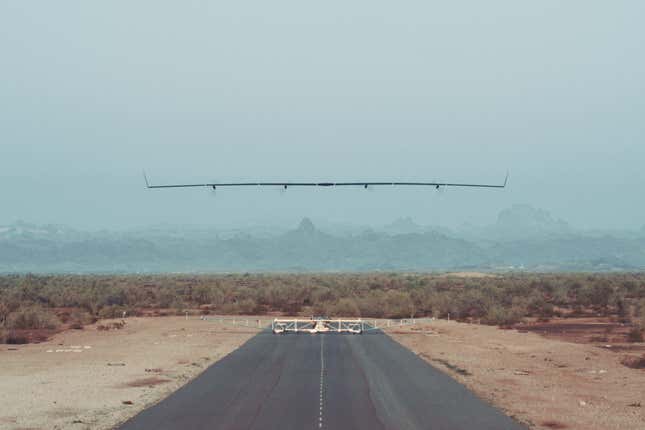 The test, which took place on June 28, was just a low-altitude flight, Facebook said, but the plane flew around for 90 minutes—three times longer than the team originally planned, though obviously a bit shorter than the months the team is aiming for. The drone team will work on its control systems and the drone's capabilities in future tests before they attempt to fly at high altitudes.
Earlier this year, the Federal Aviation Administration (FAA) finalized its regulations for flying commercial drones in the US. These regulations, which require commercial drones to be kept within the line of sight of the person flying the drone, and that the drones be kept below 400 feet, do not go into effect until August. Prior to these regulations, any company wishing to fly or test drones outdoors in the US required an exemption from the FAA, called a Section 333. Quartz checked with the FAA last year to ask whether Facebook had one of these exemptions, and was told it did not. (We've asked the FAA again, and Facebook, to see if the company has since received permission to fly drones in the US.) The FAA has started to fine some companies that operate drones commercially without an exemption, including a nearly $2 million fine for a company that was flying drones over people in New York and Chicago without permission.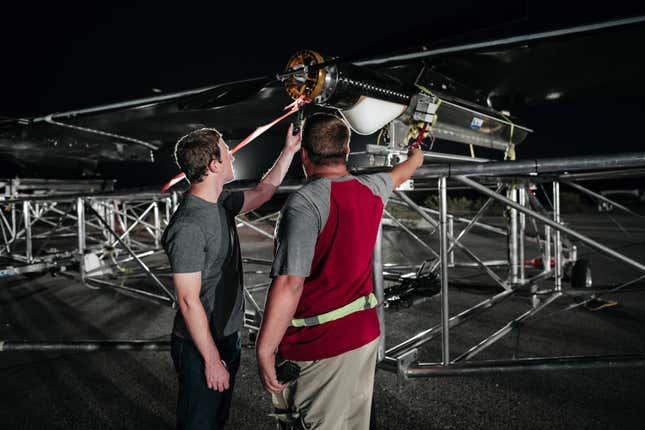 A few years ago, Facebook and its CEO Mark Zuckerberg launched Internet.org, an initiative to bring internet to the poorest part of the world, and these internet-beaming super drones are part of Zuckerberg's plan to coat the world in internet. The company has been criticized in the past for potentially being able to profit from the internet access it aims to facilitate.