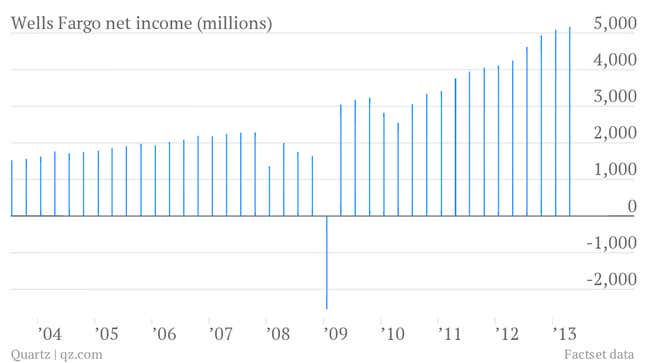 The numbers: Wells Fargo's earnings (pdf) beat analyst expectations for the first quarter of 2013, with earnings per share of $0.92 (versus a predicted $0.88) and revenue of $21.3 billion (versus $21.6 billion estimate). Net income rose to $5.2 billion from $4.2 billion in the first quarter of 2012. (Wells is the largest US bank by stock market capitalization.)
The takeaway: A slightly softer US mortgage market—which Wells credits to a seasonal decline in the number of people purchasing and building new homes—doesn't appear to have had a material impact on the bank's results, but it is noticeable. Revenue actually fell slightly from the fourth quarter. Only time will tell if this really is a seasonal aberration.
What's interesting: Wells Fargo's CEO emphasized repeatedly in the earnings press release that regulators signed off on its capital plan–which includes a dividend of $0.30–without raising any objections. That's both a proud statement and a dig at JP Morgan and Goldman Sachs, who had to go back and revise their capital plans after the Federal Reserve found "weaknesses" in their plans.