Mobile apps for presidential campaigns aren't new, but 2016 might mark the first time they're any good.
The app that current US president Barack Obama launched for his 2012 re-election campaign was an underwhelming mishmash of organizational tools and voting information. His Republican challenger that year, Mitt Romney, launched an app of his own, but if it's remembered for anything, it's that it misspelled America as "Amercia."
So when I opened Hillary Clinton's app, called "Hillary 2016," it was with low expectations. But this one turns out to be a game changer.
The "Hillary 2016" app, developed by the Clinton campaign, includes a role-playing game that pits Clinton's supporters against one another by scoring them on who's working hardest for Clinton. Users can accumulate points by finishing tasks within the game, endorsing the candidate on social media, or signing up to receive texts from the campaign. With enough stars, you'll be able to get physical rewards, like autographed items from Clinton herself.
It's not entirely unlike "Kim Kardashian: Hollywood," the role-playing app from social-media maven Kim Kardashian, who managed to get people to spend a combined 30,000-plus years in her app over two years. If Clinton manages to earn even a fraction of that audience until November 2016, it might give her a campaign a much-needed push, especially among younger voters.
Clinton's first experiment with online media of this sort was a Facebook app, "Trump Yourself,"  which let people add some of the most outrageous Donald Trump quotes to their photos, ridiculing his stance on everything from same-sex marriage to illegal immigrants.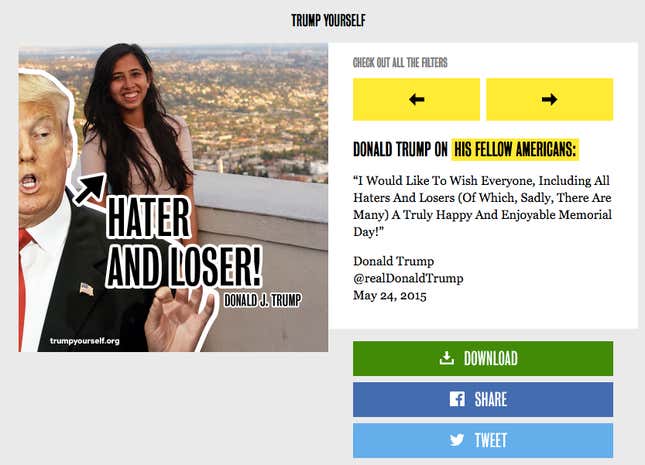 With the new app, users, upon logging in, get their own digital campaign office. It starts off pretty bare, but as you complete tasks and collect stars, you can use them to refurbish the place and add other campaign-themed knick knacks. With 120 stars, you are eligible for a 20% discount code for "2016 swag" and with 325, you can get a souvenir signed by the candidate.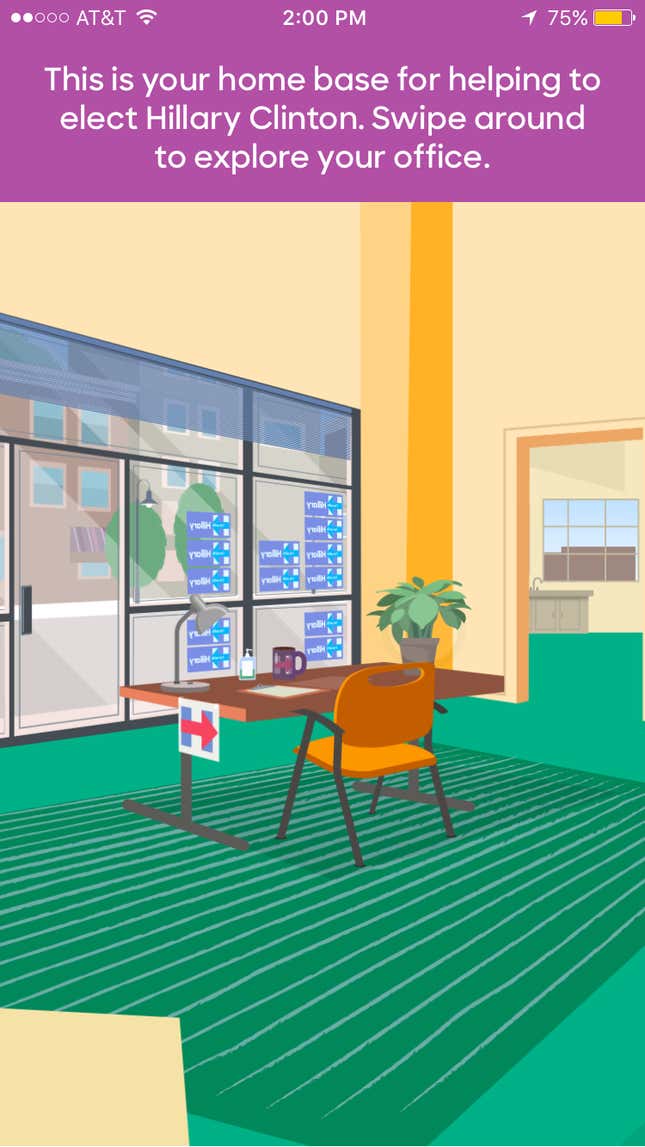 As an Indian citizen, I'm not eligible to vote in America. But you don't need to be a US registered voter to play the app's game.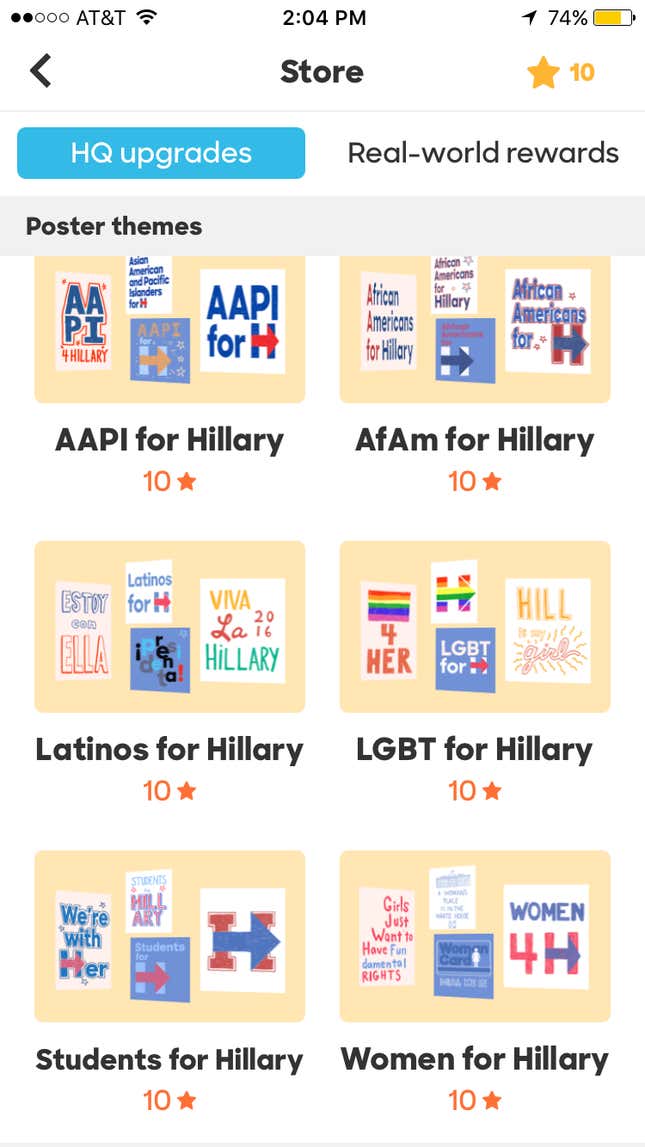 Beyond the bright colors and bubbly font, the in-app campaign is not only pro-Clinton but also vehemently anti-Trump. The Clinton campaign does not spare the opportunity of taking a jab at the Republican nominee: "The only thing standing between Donald Trump and the presidency is us," the app description in the iTunes store reads. (It is yet to be launched on Android.)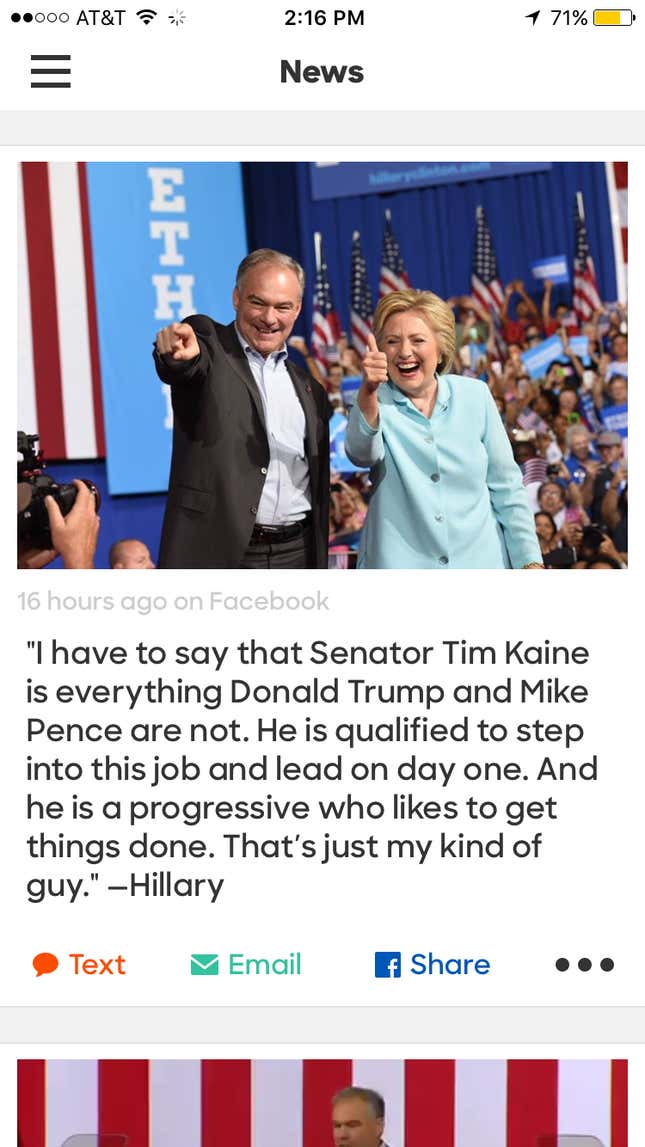 While a lot of the initial posts in the News section focused on Clinton's pick for vice president, Virginia senator Tim Kaine, other short stories and graphics were squarely focused on what the campaign would argue are Trump's shortcomings.
For those who signed up on July 25, the Democrats went a step further with the quiz "Trump or False." (It's possibly the most fun and least useful part of the app.)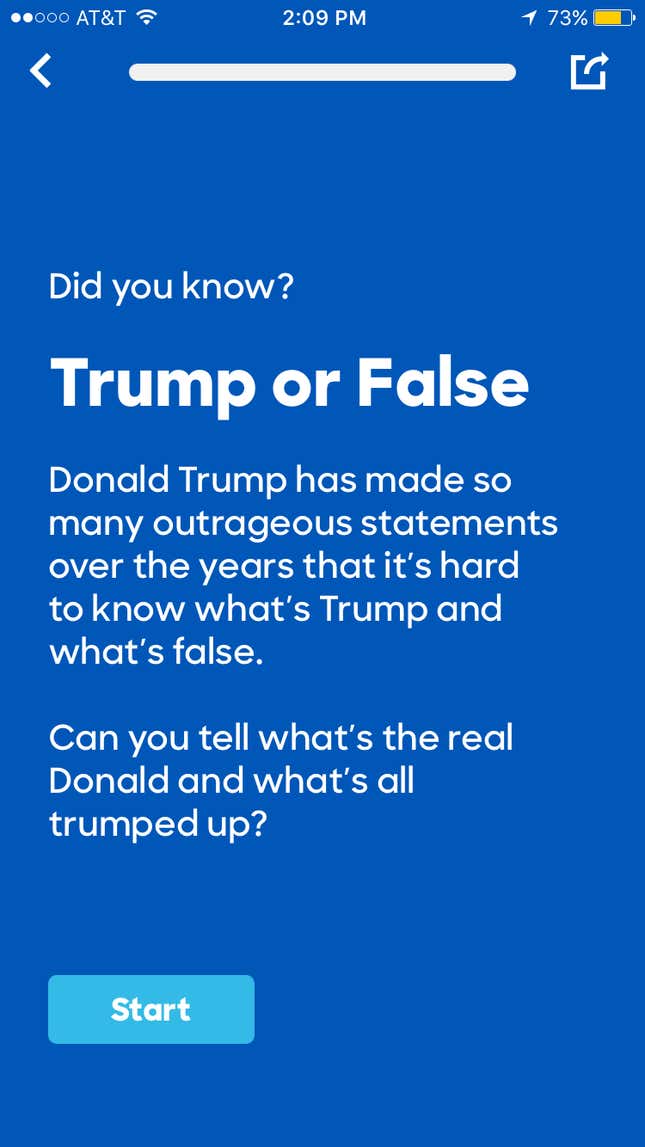 The app also lets users make donations and add campaign events to their own Google calendars. These functions are mostly hidden in a list menu off to the side—and are arguably the least compelling parts of the app. But this feels like nitpicking next to what we've seen from other election cycles.
Win or lose come November, Clinton at least has raised the bar on presidential campaign apps. Whether the effort gathers enough hype to catch on and translates into real votes is another matter entirely.