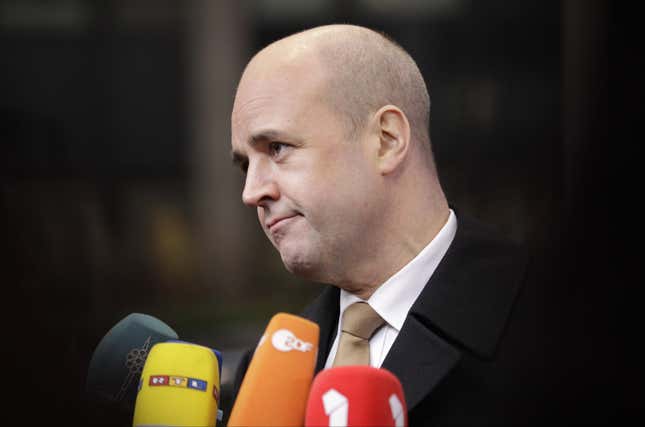 Sweden's finance minister announced that the country is slashing its 2014 growth projection, projecting GDP growth of 2.2%, down from 3% previously estimated. Growth for 2013 should come in at 1.2%, said Anders Borg, the finance minister.
The main culprit here is exports, which generate about half of Sweden's GDP. Nearly 70% of that comes from Europe, where crumbling economies have caused a drop-off in consumer spending. That doesn't look set to improve any time soon.
At the same time, the krona's value has surged as the country has emerged from the European debt crisis relatively unscathed, strenthening nearly 8% against a basket of currencies monitored by Bloomberg.
The worse-then-expected economic growth could raise Sweden's unemployment, which has been climbing since July and now sits at 8.5%. The jobs outlook for those under 24 has been particularly grim. Unemployment is likely to be the headline issue in the 2014 election. Here's a look at that trend: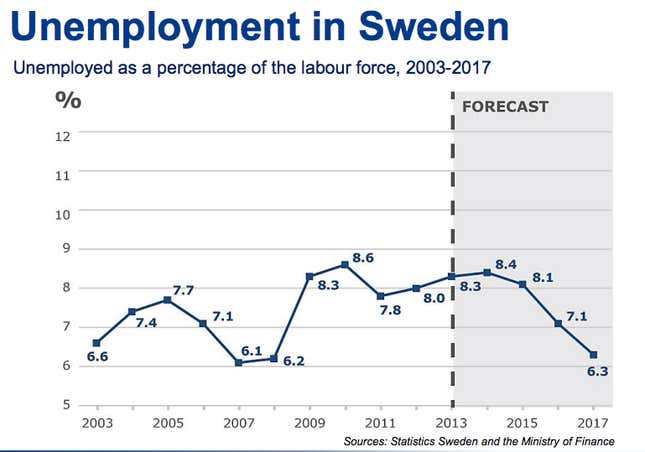 It's therefore unsurprising that Borg says the government will boost spending in order to keep people employed (paywall). "There is much to suggest that we should have an expansive budget in 2014," he said. "We should try and lean against the wind when such strong headwinds are blowing."
Government spending plans may at least partly account for the slight upward revision in Sweden's 2013 GDP estimate, from 1.1% to 1.2%. February's business production data, also out today, suggest that the recovery, while slower than hoped for, is still underway.