As visitors from around the world converge on Rio de Janeiro for the Olympics, Luiz Felippe Fontes de Mendonça is making some changes at his motel.
Used to renting rooms in three-hour blocs, he's now selling two-week vacation packages. Some rooms are getting single beds installed: "We've never had the need for single beds around here," he explains. Staff are being instructed on handling luggage, which most guests haven't had the need for either, and greeting patrons by name: "Ours was always a policy of never asking names." He has even, for the first time in two decades, gotten a guest registration book.
Mendonça is proprietor of the the Te Adoro (I Love You) motel, one of Rio's approximately 180 love motels, and he's repositioning it to cater to Olympic visitors. With Brazil in its worst economic crisis since the Great Depression, he and many other love moteliers are trying to tempt a more respectable clientele, with nightly rates that are a fraction of what big hotel chains are charging for the games.
And if that means temporarily putting the tantra chairs in storage, hiding the catalogues for the on-site sex shop, and toning down the cable TV package, it's all worth it.
Love motels are big business in Brazil, generating 3.5 billion reais ($1.07 billion) in annual sales, hosting 100 million guests, and employing 250,000 staff, according to the Brazilian Motels Association, a trade group. But the crisis has led to a 15% drop in motel revenues this year.
After it was awarded the Olympics in 2009, Rio embarked upon a massive hotel buildup, doubling the number of rooms on offer to around 60,000. Still unsure there would be sufficient lodging, the city government offered tax incentives to the love motels if they'd adapt their 7,000 rooms for tourists. A handful took up the offer; others are only temporarily shifting their business model to capture the tourist spillover.
"The industry really needs a lift and Rio is counting on the Olympics," says Ricardo Freire, a São Paulo-based motel architect.
You may imagine a love motel suite to be a sordid, cheap room with flimsy furnishings, but Freire—the Frank Lloyd Wright of the Brazilian love motel scene, known for such classics as the "Fifty Shades of Grey Suite" and the "Safari Suite," with a bed designed to look like camouflaged jeep—would have you revise your opinion. Forget Olympic stadiums; love moteliers face challenges every day in creating venues suitable for feats of indoor athleticism, Freire says. Chairs and tables must meet exacting design standards and be built with high-tensile-strength materials, to support the weight of two people subjecting them to extreme stress. More than once, he says, an accident has occurred because a love motel architect cut corners on materials or design.
Freire says São Paulo is the place to see love motels at their finest, but Antônio de Oliveira Cerqueira, proprietor of Rio's Shalimar motel, begs to differ. He offers a tour of the Medieval Suite (picture above), which is done up in a faux dungeon motif, with a rustic chair which sits like a throne against a wall bedecked with a thick slave's chain. Less nostalgic is the Shalimar Suite, outfitted with a sauna, a heated pool, and that most indispensable of all modern furnishings, a stripper's pole.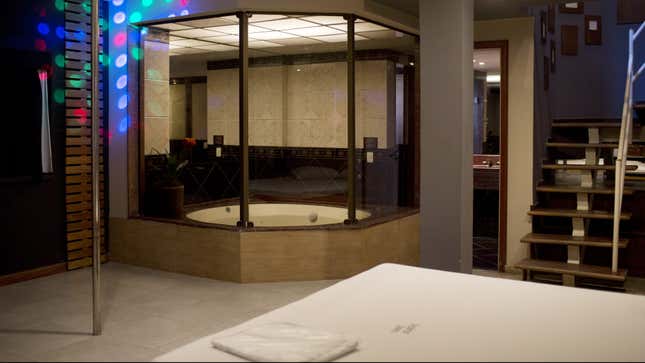 "Foreigners will come to Rio for the games, but if they stay at a motel, I guarantee you that is what they'll remember the most," Cerqueira says, knocking the pole with his knuckle for emphasis.
Or so the love motel industry hopes. In the run-up to the games, the motel association has put 12,000 motel workers through training in the kinds of basic customer services that short-term clients generally don't require. "The motels of Rio de Janeiro also want to make history and win the gold medal when it comes to hospitality," chirps an association press release.
Even with the work Mendonça has put in, though, it's clear the Te Adoro is no normal hotel. There's no lobby to speak of. Guests generally enter by car, pay an attendant, and pull into an individual parking garage connected to their room, so they can't be seen going from the automobile to the love nest. Mendonça has moved out some overtly sexual accoutrements, but the beds with their weird, beveled corners remain, as do the mirrored ceilings.
It's unclear whether his efforts will pay off, however. Over the past year or so, Brazil has been hit by a nearly biblical series of calamities. First came the economic collapse, followed by the mosquito-borne Zika virus, which causes birth defects. Now, the president is being impeached and Rio is enduring a crime wave. Last week, authorities busted up what they said was a homegrown terror cell inspired by Islamic State.
Rio hotels are nearly full, but the Te Adoro isn't yet cleaning up quite like Mendonça had hoped. He had once hoped to reach 90% occupancy, but now says he'd settle for 70%, and has knocked his price down from 450 to 280 reais a night.
So, if you want a decently-priced room in Rio and don't mind seeing yourself in the ceiling in the morning, you know where to go.