A long-running battle in China between two powerful internet companies is  over—and ride-hailing giant Uber has lost.
Didi Chuxing, China's most popular ride-hailing service, is set to acquire Uber China, a source briefed on the deal told Quartz. Didi will invest $1 billion in Uber Global, and Uber China investors will get a 20% stake in the new combined company. The news was first reported by Bloomberg.
A blog post circulated on WeChat from Uber CEO Travis Kalanick states that the merger stems from a need for both companies to get to profitability. "Getting to profitability is the only way to sustainable business that can best serve Chinese riders, drivers, and cities over the long term," reads the post.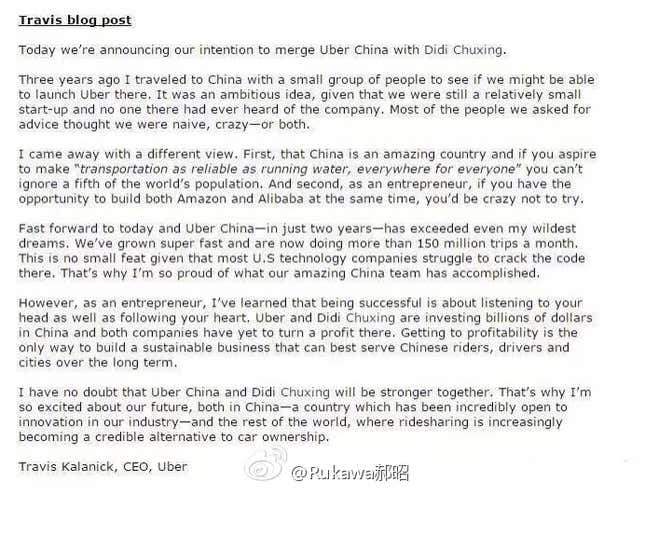 Uber burnt about $2 billion to date in China in order to catch up with Didi, which had a two-year head start. As of two months ago, it was still much smaller when measured for daily completed rides.
Uber is currently in over 60 Chinese cities, while Didi is in more than 300. Creation of the merged company, which Bloomberg values at $35 billion, will put an end to a cash burning frenzy.
Uber said it could not comment on the veracity of the blog post or about a deal. Didi did not immediately reply.