Oil entered a bear market after the price of WTI crude, the US benchmark, dropped below $40 a barrel late yesterday (Aug.1). Saudi Arabia cut prices to Asia at the weekend, indicating that it's not backing down in its battle with rival Iran, which is rapidly boosting production to regain market share it lost while under international sanctions.
According to people who track these markets for a living, this wasn't supposed to happen. Many forecasters expected oil prices to rise in the second half of 2016. Just last week the World Bank raised its oil-price forecast amid disruptions to supplies from Nigeria and Canada. But WTI crude has fallen more than 20% from its peak last month, the commonly accepted definition of a bear market. (Brent crude, the international benchmark, is not far behind.)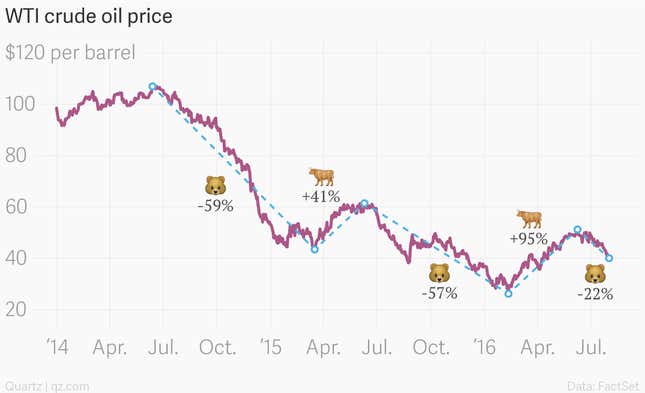 This is bad news for oil companies that have already suffering from the downward march of oil prices. Last week, Shell reported its lowest quarterly earnings in 11 years, while BP's profit dropped by nearly half.
This is also a big problem for central banks that expected oil prices to increase. More expensive oil would have fed into higher inflation, moving policymakers closer to achieving their goals. The European Central Bank is fighting an expensive battle (to the tune of over a trillion euros) to ward of deflation by pumping money into bond markets. In its latest economic forecast (pdf), published in June, the ECB said "the assumed further increases as embedded in oil futures prices should account for a significant part of the pick-up in headline inflation between 2016 and 2017." Uh oh.
"Oil prices have retreated further in recent weeks, calling into question our view that the oil market has entered a resolution phase," JPMorgan analysts wrote in a recent note. Still, they are sticking to their forecast of WTI rising to $49 a barrel by the end of next month. That's 20% above current levels, implying a rapid recovery into a renewed bull market, which would be the third in less than two years.