Would you snap an advertisement? Snapchat thinks you might.
The photo and video based messaging service is developing a new "snapable ads" product, where Snapchatters can use the app's camera to scan an image or barcode on a poster or website to receive a special deal on a product, according to The Information, citing anonymous sources. The offering is tentatively scheduled to roll out in the fall, but it's possible the product could be delayed or scratched.
The ad product seems related to a recent patent application from Snapchat. The application, filed in August 2015 and published on July 21, 2016, shows how users can scan Snapcodes, its custom QR code system, in the real world to unveil exclusive content within the app.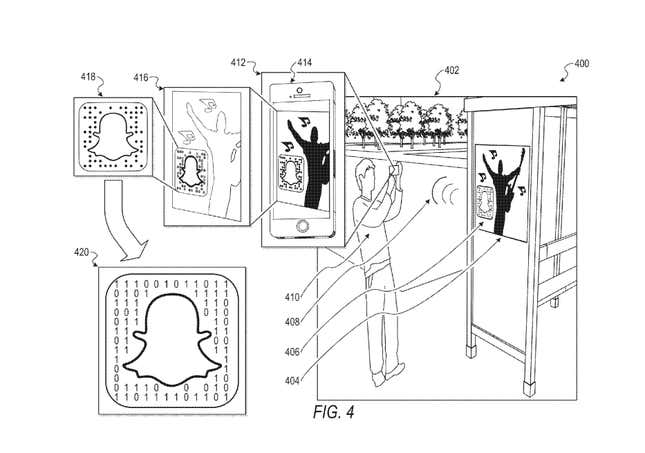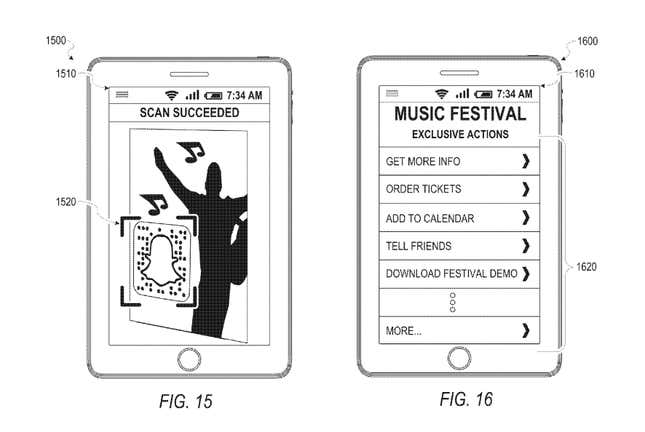 Snapchat's been ramping up its advertising strategy, recently introducing an API and better analytics to make it easier to advertise on Snapchat and track an ad's engagement. But while Snapchat has lofty goals for its ad platform, it's still a work in progress. For example, Snapchat counts video views, including ads, the instant they're on a user's screen—other social media services, like Facebook, wait three seconds before counting a video ad view. Having a user take an action like scanning a QR code would make an ad more valuable by increasing engagement.
QR codes, which can be scanned with mobile phones, have been around for some time, but have never been all that popular. Even so, Snapchat has found surprising success with the format. In 2014, it acquired Scan.Me, a QR code company, for $50 million, and used its tech to release Snapcodes in January 2015. Each user has a unique Snapcode, and users can scan those codes to quickly add each other on the app. The feature has been so popular that messaging apps like Facebook Messenger have copied it.