Kanye West really wants to design inexpensive furniture for college dorms.
In an Aug. 1 interview with BBC radio 1, rapper and budding furniture designer Kanye West sent out an appeal to his dream employer, Ikea.
"Yo Ikea, allow Kanye to create, allow him to make this thing because you know what, I want a bed that he makes, I want a chair that he makes," said West, pretending to be a college student who'd buy his designs. Back in his own voice, he told radio host Annie Mac: "I have to work with Ikea, make furniture for interior design, for architecture."
West visited the Swedish company headquarters in Amhult in March and stirred a wave of speculation about Kanye-designed flat pack furniture.
In a statement sent to Quartz, an Ikea spokesperson said that the furniture company hadn't quite gotten around to inviting West to develop his ideas. "We are really flattered for the attention around the visit, and also in Kanye West's high interest in Ikea. There have been many speculations around potential plans for future collaborations, but we can confirm that we have no collaboration at this moment."
But Ikea's Australian subsidiary did post a mock Yeezy-branded bed platform on Facebook, with the quip, "Hey Kanye, we'd love to see what you'd create…we could make you Famous!"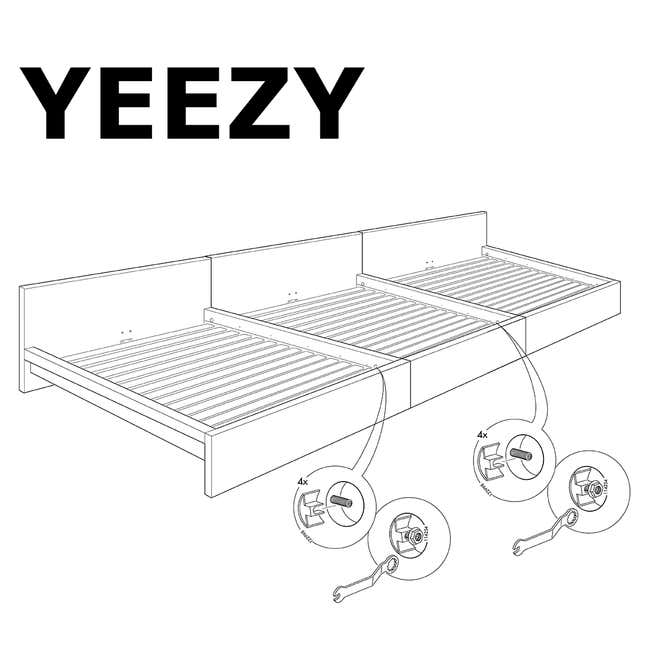 Despite West's ardent appeals, an honorary doctorate from the Art Institute of Chicago, and several fashion collaborations under his belt, it appears that Ikea remains unconvinced by his design chops.
West first publicly declared his love of design and architecture in a surprise visit to the Harvard Graduate School of Design in 2013. Addressing a circle of star-struck students, he said, "I just wanted to tell you guys, I really do believe that the world can be saved through design, and everything needs to actually be 'architected'…I've tasted how it is to create and impact in a positive way."