A succession of glass-bottom bridges and walkways have opened in Chinese parks in recent years, designed to offer nature lovers a little extra frisson.
The latest is a glass skywalk complex in Hunan province's scenic Zhangjiajie grand canyons. The Coiling Dragon Cliff, a platform hugging the Tianmen mountain with a dizzying 4,600-foot (1402-meter) drop, opened to the public this week and the Zhangjiajie Grand Canyon Glass Bridge, heralded as the world's longest and highest glass bridge, is going through its last rounds of safety checks before its grand opening.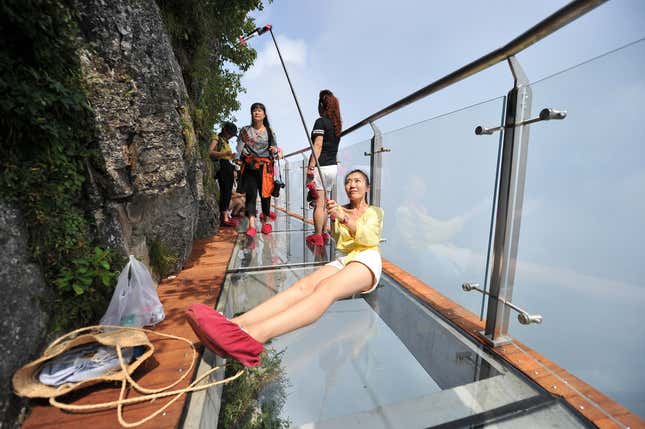 As Xinhuanet explains, tourists are drawn to Zhangjiajie's "pillar-like mountain formations" that appeared in the 2009 James Cameron movie Avatar.
But with a terrifying glass bridge cracking incident in nearby Yuntai mountain last October, proving the Zhangjiajie glass bridges' sturdiness is a priority for officials. In a safety ceremony on July 26, organizers challenged 30 daring volunteers to take 12 pound sledgehammers and do their best to collapse the bridge, the Washington Post reported.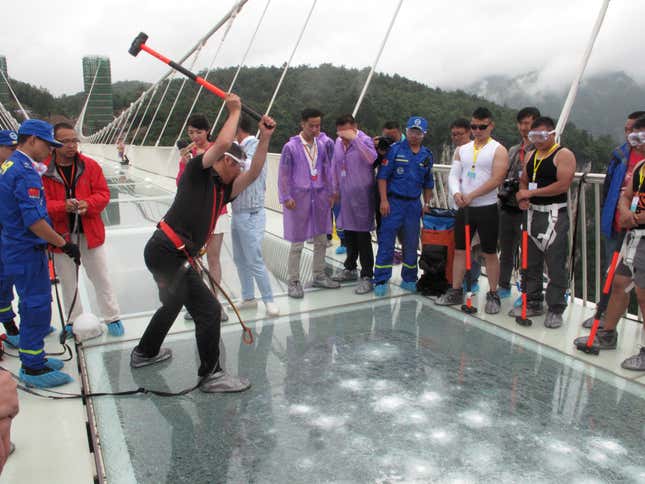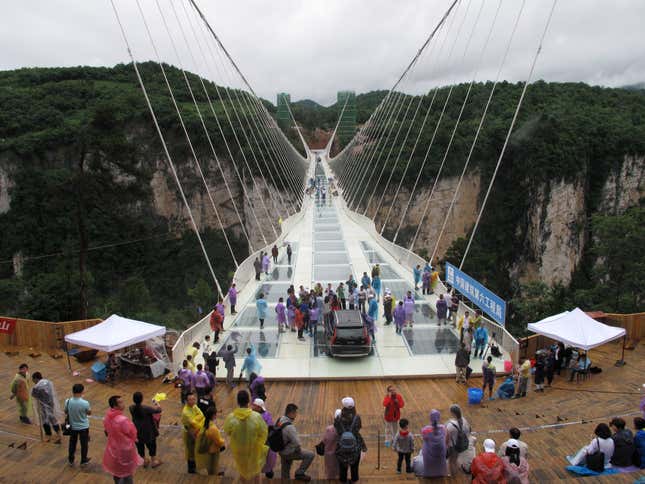 The top layer of glass did crack. But the bridge itself withstood the onslaught and even the weight of a Volvo SUV with 11 passengers. In another successful safety test, officials asked 25 people to jump on a single glass panel.
Designed by Israeli architect Haim Dotan, the Zhangjiajie suspension bridge is made of 99 panels, and is designed to support the weight of 800 people. A bungee jump attraction is planned for the most daring visitors.