To much media fanfare, Mark Zuckerberg recently helped launch lobbying group Fwd.us, which urges us to "join the tech community in passing immigration reform." And who wouldn't want a dozen more Sergey Brins kicking around the US economy?
But the highest stakes of immigration reform—the Senate just unveiled the bill (pdf)—have little to do with Indian engineers or Polish doctors. The best way to deal with low-skilled immigrants is far more controversial. Here's why it shouldn't be: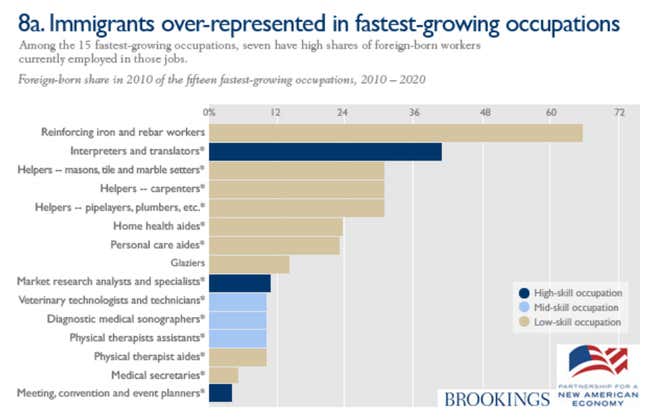 Immigrants have increasingly been filling low-wage jobs that Americans don't want. And that's not because they're stealing US jobs. As the native workforce has become more educated—and, therefore, moved up the income chain—immigrants have increasingly met the demand for the lowest-skilled jobs (pdf, p.4). By 2012, 24% of foreign workers did not have a high school diploma, compared with just 5% of working natives. Plus, native and immigrant low-skilled workers now tend to compete for different types of jobs (pdf, p.22).

And demand for those workers is growing rapidly… The highest-volume and fastest-growing job categories also tend to be low-skilled ones (pdf), according to the Bureau of Labor Statistics.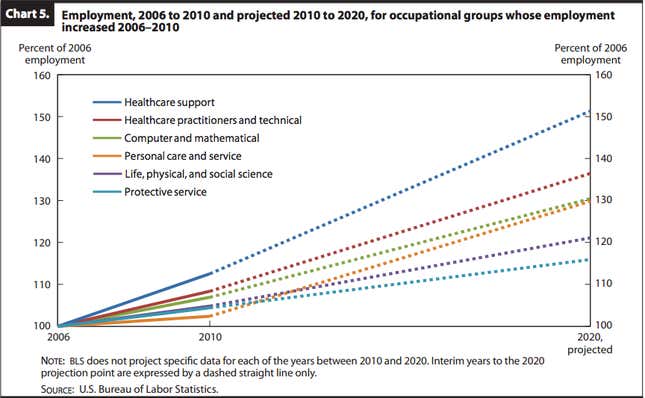 …particularly as the US workforce ages. Growth of the native working population in slowing, as retirees make up an increasing proportion of the overall population. This means there won't be enough native workers to fill many of the 4 million low-skilled jobs that the economy will add by 2020, according to the BLS. Take, for example, home health and personal care aides. If the 2020 workforce breakdown stayed at current levels—around a 25-75 split between foreign-born and native workers (pdf)—the economy would be short some 700,000 of those aides by 2020. That's a lot of sick and old people without help. 

Immigration of low-skilled workers drives up native wages… Research on what would happen if the US cleared a path to citizenship for its 11 million undocumented immigrants (a workable proxy for low-skilled immigrants) suggests that, as economic security encourages immigrants to consume, overall incomes will rise by $470 billion in a decade (pdf), and the economy would add 121,000 jobs each year. Plus, immigration pushes low-skilled natives up the income chain, helping to close that nagging wage gap.
…and boost native productivity… Availability of domestic workers helps free up a highly productive slice of the workforce: ultra-educated women. "Domestic workers…make it possible for [high-skilled] women to enter the labor force and hold full-time jobs because they are home caring for their loves ones and maintaining the household," Haeyoung Yoon, of the National Employment Law Project tells Quartz. "[D]omestic workers make all other work possible." In short, more low-skilled immigrants will help women worried about "having it all," well, have it all.
…as well as immigrant productivity. As The Economist discussed in Nov. 2012, the US's superior infrastructure and institutions alone would "supercharge" the productivity of an immigrant worker, regardless of how talented he is. With US worker productivity on the decline, this is much needed.
Of course, no one's going to set up a fancy lobbying group for gardeners, nannies and bricklayers. But they're just as crucial to the US's economic outlook.