Director Ava DuVernay is no stranger to breaking down barriers. She was the first black woman to win best director at the Sundance Film Festival. And last year, she became the first black woman to be nominated for a best director Golden Globe. Her film Selma also was nominated for best picture at the Oscars.
It's a testament to her power as a director that DuVernay is achieving another milestone with Disney's "A Wrinkle In Time," which she will direct.
With the film—adapted from the 1963 fantasy novel by Madeleine L'Engle—DuVernay will become the first woman of color to helm a live-action film with a production budget of more than $100 million.
Details of the film's budget were revealed this week when the California Film Commission said it would be the first $100-million-plus feature film to receive a California tax credit. Projects with budgets greater than $75 million were previously not eligible for the state's tax credit.
Disney did not immediately respond to requests to confirm the budget.
DuVernay's achievement was first pointed out on Wednesday (Aug. 3) by Melissa Silverstein of Women and Hollywood, a blog that advocates for gender equity in Hollywood.
She and her team counted each live-action film with a budget of more than $100 million that had a female director. (There are 195 live-action films in this budget range, according to The Numbers, which has movie industry data by budget.) They found one: Kathryn Bigelow's 2002 Cold War-era thriller K-19: The Widowmaker.
Patty Jenkins will become the second woman to a direct a $100-million plus budget film with Wonder Woman, which has a budget of $150 million. And DuVernay will be the third—and only woman of color—to pass this milestone, Women and Hollywood found.
The Center for the Study of Women in Television and Film at San Diego State University also confirmed that two other women had reached this milestone.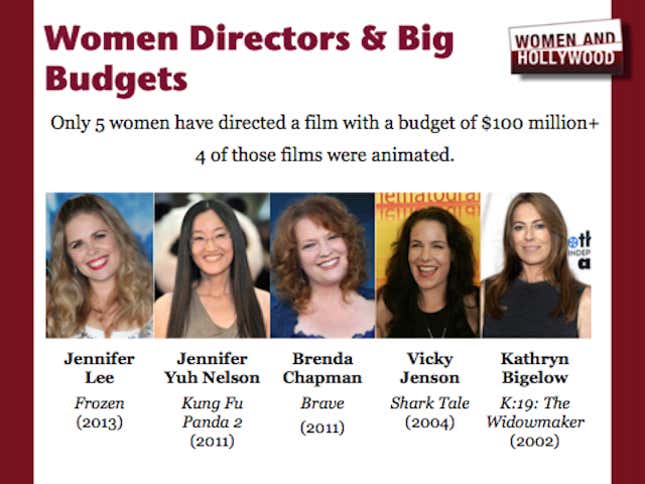 Four other woman directed big-budget animated films, including Frozen, Kung Fu Panda 2, Brave, and Shark Tale, according to Women and Hollywood. But DuVernay is still the only black woman in this roster.
Despite all the latest talk in Hollywood about diversity and gender inclusion little has yet to change, especially behind the camera, which makes DuVernay's achievement stand out even more.