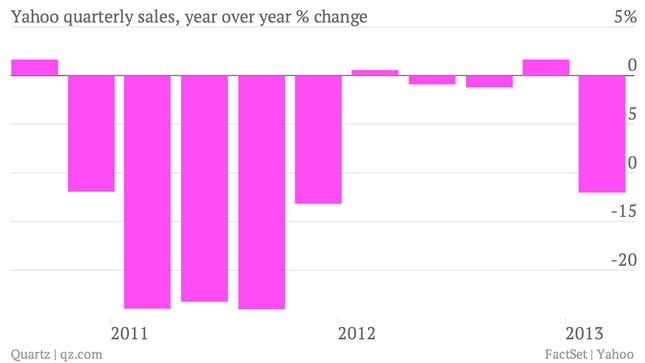 The numbers: Yahoo saw its profit jump 36% year-on-year in the first quarter, to $390.9 million, or earnings per share of $0.35, beating estimates. But revenues of $1.07 billion were slightly lower than the very modest 2% bump that analysts had expected.
The takeaway: Yahoo's profit growth shows it's done a good job at cutting costs. Now it has to bring in more money. It missed revenues because competitors like Google, the former employer of Yahoo CEO Marissa Mayer, continue to steal away advertising. Yahoo's display advertising took an especially hard hit. Investors were disappointed by the revenue miss and sent Yahoo shares down by more than 4.4% in after-market trading.
The news takes some of the shine off Mayer, who has brought more of a positive vibe to the company compared to its turbulent past. Yahoo shares had risen by about 55% since Mayer took over less than a year ago. But some of that bump is attributed to the rise in the value of Yahoo's stake in Alibaba, China's largest e-commerce site, which is expected to go public within a year.
What's interesting: Search revenue declined by 10%, all the more reason for Yahoo to rethink its search partnership with Microsoft's Bing. While Microsoft has gained market share in search, Yahoo has declined. Yahoo has also purchased at least six startups to boost its presence in the mobile world. It's too early to see the impact of those deals, but Mayer is counting on them to make Yahoo more relevant. Look for more data on that in future earnings reports.