Tonight, international top athletes enjoy the attention of fans all around the world, for the opening ceremonies of the 2016 Olympic games in Rio de Janeiro, Brazil.
Tens of thousands of athletes who failed to survive the grueling qualification rounds will no doubt also tune in to the Aug. 5 festivities in Maracanã Stadium, which start at 7pm eastern time. But one of those disappointed athletes is already being honored elsewhere in Rio, by French street artist JR.
In Avenida Rui Barbosa facing Flamenco beach, a monumental image of 27-year-old Sudanese high jumper Ali Mohamed Younes Idris leaps over an apartment building and appears to float in mid-air. "He missed out on qualification for the 2016 Rio Olympics but he is there somehow," JR wrote on Instagram. Idris, who in real life towers at 7'5″ (2.26 meters), was a gold medalist at the 2011 All-Africa Games and a national record holder for high jump. He was injured this year while training in Cologne, Germany, and failed to make it through Rio's qualifying rounds.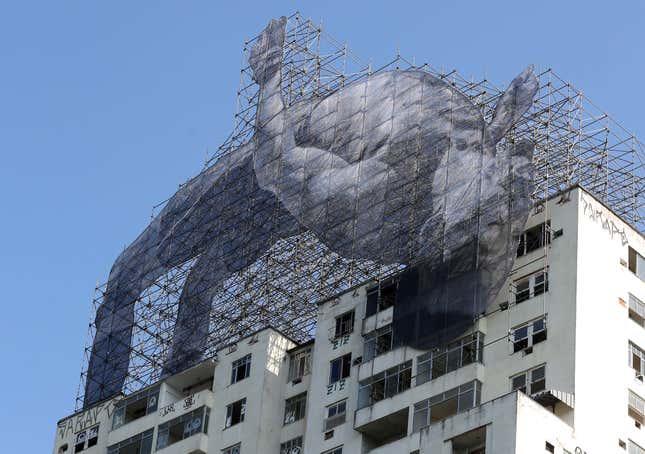 Another installation in the nearby Barra neighborhood depicts an anonymous swimmer in an elegant dive.
Working with construction scaffolding is a first for the globe-trotting JR, who recently installed an optical illusion in front of the Louvre museum in Paris.
JR is not the only street artist making a mark in Rio this week. Brazilian graffiti artist Eduardo Kobra is attempting to set a world record for the largest wall mural painted by one artist.