The opening ceremony of any Olympic games tells a story about the country hosting it, and how it wants the world to see it.
In Rio tonight (Aug. 5), the narrative that unfolded before the parade of nations was centered on the various racial and national groups that have come together to form the Brazil that exists today. It's made up of indigenous, European, African, Middle Eastern, and Asian peoples, and filled of course with music, dancing, and the supermodel Gisele Bundchen. But the story also suggested that Brazil faces a growing and alarming threat.
The explicit threat is climate change, which the ceremony presented as a crisis endangering the entire world. It was a strong political statement that called all nations to action—though as some television and Twitter commentators pointed out, there was some dissonance in a country that has destroyed large parts of the Amazon rainforest delivering an environmental warning from a city rife with pollution.
It was hard not to think of other problems threatening the country, too. Despite years of economic prosperity and hope, a corruption scandal has reached the highest levels of government, encircling president Dilma Rousseff and helping to plunge Brazil into its worst recession in a century. The country also continues to battle chronic violence, and its three largest cities—São Paulo, Rio de Janeiro, and Salvador—are home to some of the world's greatest wealth disparities between rich and poor.
One portion of the opening events represented a favela, or slum, full of dancing kids. It looked downright cheerful, and not much like the vision of favelas that Fernando Meirelles, who directed Rio's opening ceremony, offered in his international hit City of God in 2002. In that sense, the ceremony contrasted sharply with the opening of the 2012 London Olympics, which included at least some of the harsh realities Great Britain went through while industrializing to become what it is.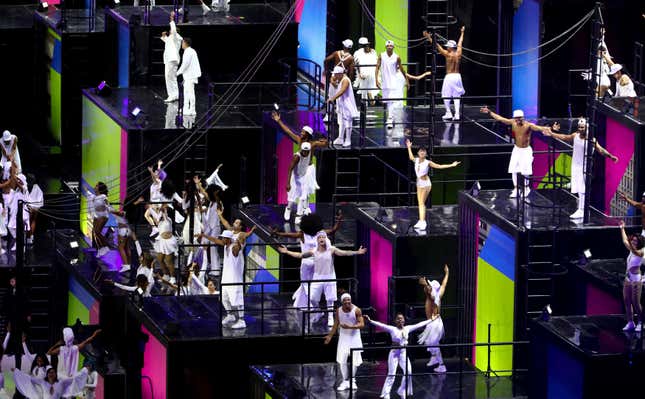 Rio's opening ceremony also looked at the country's history, going back to the lives of the indigenous people, the arrival of the Portuguese, their mass enslavement of Africans, and the later influxes of different immigrant groups to the country. It covered Brazil's famous music, including a performance by Gilberto Gil.
But maybe the most powerful and telling message came from a poem, read in part by dame Judi Dench in hologram form, by one of Brazil's greatest writers, Carlos Drummond de Andrade. Called "A Flor e a Náusea," or "The Flower and Nausea," it concludes with an image of a flower—an ugly one no less—breaking up through asphalt, tedium, nausea, and hate. It was maybe meant to suggest optimism that the planet would survive the environmental threats. But it was no less a symbol of Brazil, and its own hope for the future.