This is what the breakfast of US Olympic swimmer Ryan Lochte looks like: Five to six eggs with spinach, tomatoes, and ham. Hash browns, pancakes, oatmeal, fruit. And a French vanilla coffee (with one sugar and cold milk, please).
That's just on a normal training day.
The amount that Olympic swimmers eat is legendary. Back in 2008, Lochte's teammate and rival Michael Phelps—he of 21 gold medals and counting—made headlines when he boasted of his 12,000-calorie-a-day diet:
Breakfast: Three fried-egg sandwiches with cheese, lettuce, tomatoes, fried onions and mayonnaise. Two cups of coffee. One five-egg omelette. One bowl of grain. Three slices of French toast topped. Three chocolate-chip pancakes.

Lunch: One pound of pasta. Two large ham and cheese sandwiches with mayonnaise on white bread, plus energy drinks.

Dinner: One pound of pasta, an entire pizza, and even more energy drinks.
Though Phelps later admitted the 12,000-calorie figure was an exaggeration, there is truth in that Olympic-level swimmers burn around 3,000-10,000 calories a day, depending on the intensity of their workouts. No surprise then, that the likes of Lochte and Phelps consume about 7-8,000 calories a day—four times the average adult male's diet.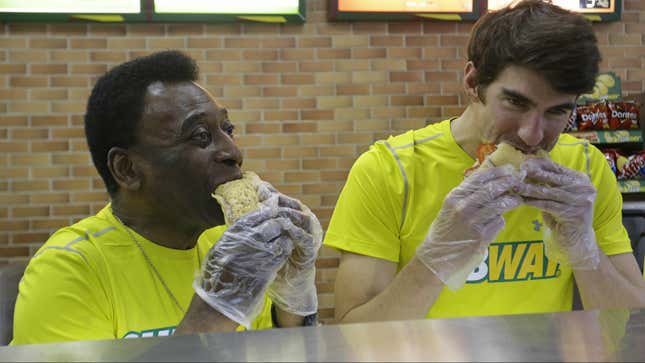 Australian swimmer Melanie Schlanger has said that eating as much as she likes at the 24-hour McDonald's that comes standard at the Olympics is one of the best things about the Games.
A week before a competition, Lochte carb-loads on pasta such as fettuccine alfredo, plus chicken, steak, or other protein, he told Bon Appetit. Two or three hours before a race, he'll have another full meal with a caffeine pill after morning coffee. Peanut butter snackbars tide him over in-between. And on Fridays, he joins his family for their traditional dinner of pizza, chicken wings, and Mountain Dew soda.
Bear in mind: he burns off all of this in the pool.
Why is swimming so energy-intensive? In terms of calories burned, it's about the same as cycling or running. The average swimmer will probably burn 400-600 calories in an hour-long swim. The difference is the water, which provides resistance that is about 12 times greater than air.
Swimming is also a whole body workout, making use of all four limbs moving at the same time, through dense liquid. Pro swimmers can achieve power physicists estimate at a maximum of 1,200 watts—three times that of a cyclist.
Moreover, the body loses a lot of heat to the surrounding pool and has to expend a greater amount of energy on temperature regulation. There's also a theory that submerging the body in temperatures below 20ºC (68ºF) triggers hunger, releasing hormones that signal for the body to store more fat for insulation. No wonder, then, that swimmers need and want a lot of fuel.
This can be a problem when swimmers retire. Phelps, now 31, reportedly put on 25 pounds after the 2008 Beijing Games, and says his calorie intake has dropped considerably, partly because of lifestyle and training changes after rehab for alcohol abuse, but also because, sadly, he no longer has the body and metabolism of a 23-year-old.