Whenever UN secretary-general Ban Ki-moon finds himself in San Francisco, he makes it a point to drive across the Golden Gate Bridge to visit Libba Patterson.
Patterson lives about 30 miles north of the city, in Novato, California. In 1962, that's where she and her family hosted the future UN chief on his first trip to the United States, when he was 18.
Ban spent just eight days living with the Pattersons, but a lifelong friendship was formed. He and the 99-year-old Patterson, whom he refers to as his "American mom," have kept in touch for over five decades, as Ban crisscrossed the globe fulfilling ambitions he could only dream of while growing up in the rural Korean village of Eumseong. When Ban was in the running for the position of UN secretary-general, he called Patterson to tell her the news. In 2015, when he was in San Francisco to celebrate the 70th anniversary of the signing of the UN charter, Patterson was in the audience along with Malala Yousafzai.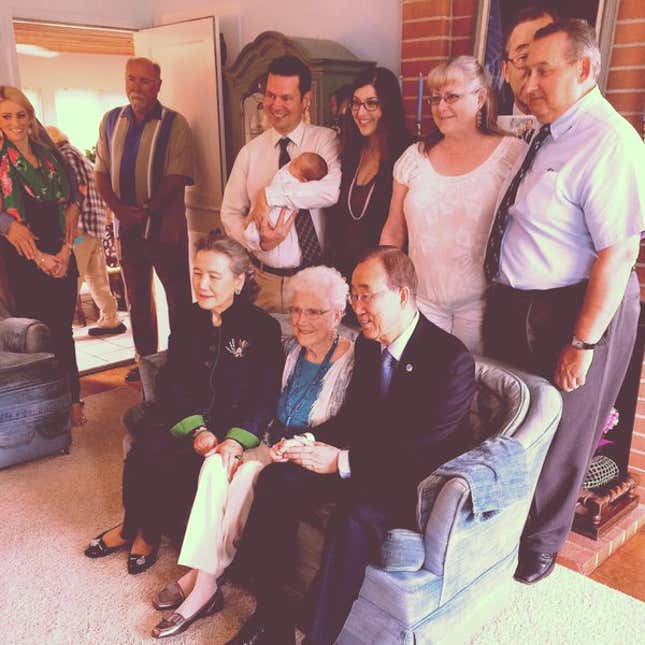 Ban always tries to set aside time to visit with Patterson on trips to the US west coast, a spokesman says. Since taking office, he has met with her four times in California. The duo will meet again on Aug. 11, when the secretary-general is back in San Francisco for a short visit. His schedule that day also includes a meeting with California governor Jerry Brown to talk about the fight against climate change.
Ban's first trip to the US was organized by the American Red Cross, as part of its Visit of International Students to America (VISTA) program. He won an English-language essay contest to earn a spot on the trip. It included the chance to travel across the country, live with host families, and visit the United Nations and the White House, where he got an autographed picture of US president John F. Kennedy.
The 1962 trip had a lasting impression on the future diplomat. "I was so inspired I went on to spend my life in public service, first as a Korean diplomat and now for the UN," he said at the 50-year reunion of his visit.
Over the years, Ban has publicly shared recollections from his time in Novato. He has recalled asking his host family to speak slowly because he was having difficulty understanding English, and lovingly remembered his host mother covering him with a blanket after he fell asleep on a car ride home from the beach.
Patterson was working back then as an assistant field director for the American Red Cross in Novato, and had volunteered when her office asked if anyone was willing to host a student from South Korea.
"Growing up as a small child living in Arkansas, I've always been interested in other cultures and people," Patterson told the San Francisco Chronicle back in 2007, when Ban arranged to stop by during a two-day trip to the Bay Area. The future diplomat from Korea seemed equally keen to experience new cultures. "I had bought some rice and told him I can cook that up," Patterson told the paper, "but he said he wanted a hamburger."
Ban's "American mom" also describes their relationship in familial terms, telling the Marin Independent Journal in 2015, "Even though he is the secretary-general, he is still my kid."