Fu Yuanhui is China's new sporting darling, and not because she's a gold medalist.
China's internet can't get enough of the 20-year-old's exaggerated facial expressions and humor. After qualifying for the final of the women's 100-m backstroke at the Rio Olympics on Aug. 7, Fu gave an interview that's since gone viral.
"I was so fast! I'm really pleased!" she said in a state of shock after clocking in at 58.95 seconds, a new personal record. "I didn't hold back… I've already used all of my mystic energy."
Fu went on to win a bronze medal in the race on Monday (Aug. 8).
Since then, Fu, from the southeastern city of Hangzhou, has gained more than three million fans on Chinese social networking site Weibo in two days. Her catchphrase "mystic energy," or "prehistoric power," has become a meme, and her super-excited expressions have been turned into emoticons. In an interview Monday, her reaction won over Chinese netizens' hearts again.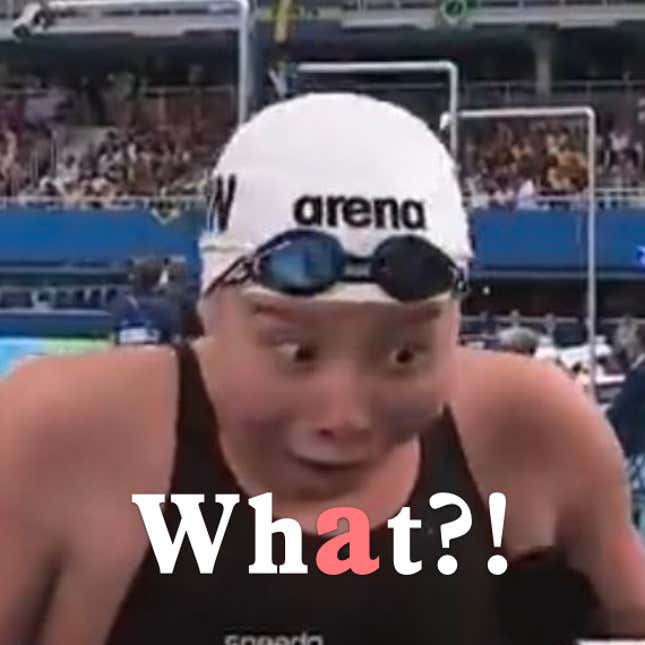 "Maybe it's because my arms are too short," she sighed as she mistakenly thought she didn't win a medal. She couldn't clearly see the rankings on the screen because she is nearsighted, she later explained.
On Wednesday night (Aug. 10), Fu's internet fame rose further as she popped up on a popular live-streaming app.
"Hi everyone!" she said to the camera. "I'm still a bit sleepy." The live stream started Wednesday at 8pm in Beijing, or 9am in Rio. Fu explained that she would usually still be in bed at the time, and that she hadn't eaten breakfast yet. She started eating cupcakes, and burped several times like no one was watching.
The 60-minute live stream attracted more than 10 million viewers, who collectively paid 320,000 yuan ($48,180) to send virtual gifts to her, according to the app, Ingkee. On Chinese live-streaming apps, users can post comments and send virtual gifts to interact with the person who is performing live. The sometimes costly virtual gifts are a major revenue source for the platforms and for the stars, as the money is distributed between them.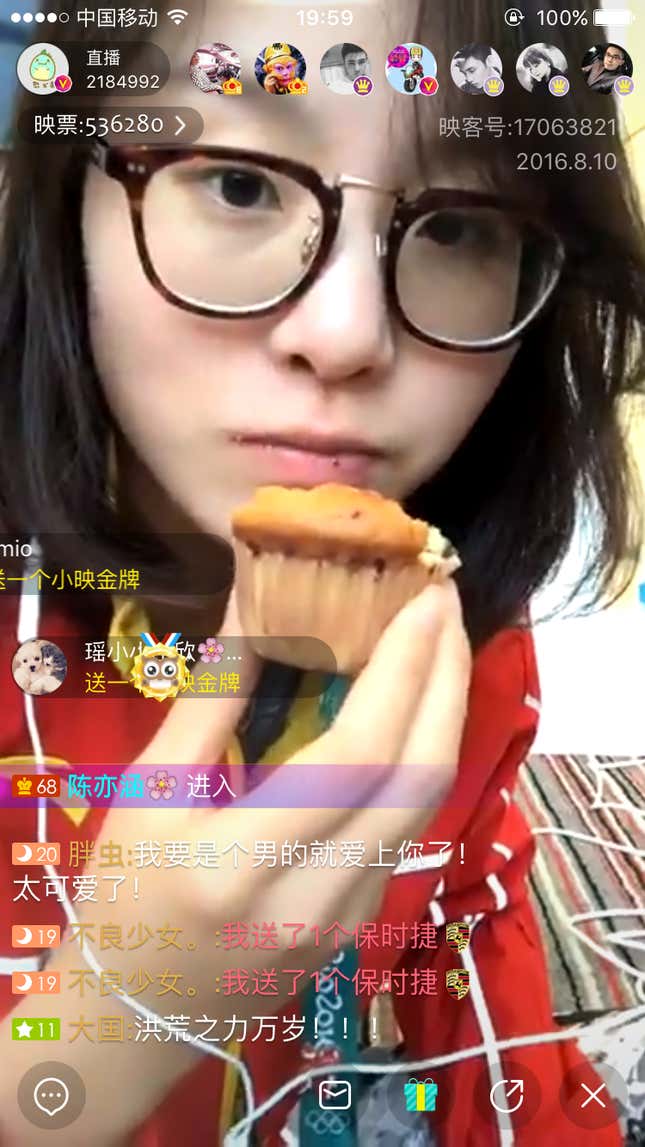 But Fu is apparently not happy about the fake yachts and limos she received (a yacht, for example, is worth around $100). During the live stream, she begged the audience dozens of times to stop giving away their money for virtual gifts because it made her feel guilty. At one point, she said they should save the money to buy snacks; at another, she said they had better use the money to "save some kittens and puppies."
For viewers of these live streams, Fu is a relative breath of fresh air, a change from the cookie-cutter female internet celebrities that dominate the business. "Now I'm really a fan of this honest, frank girl, she's so cute!" one Weibo user wrote (link in Chinese) after watching Fu's live stream.
Most of the live stream was a Q&A between Fu and a host. Fu said she had never thought of winning a medal at Rio, or becoming a sensation on the internet. She said she dreams of raising horses and owning an animal farm after retirement. The food at the Olympic Village is fine, she said, but the fruits are rotten sometimes. The mashed potatoes and smoked salmon are her favorites. She also assured the audience several times that she wouldn't be "commercialized," as the live-stream deal was struck several months ago, not after her accidental fame as an internet celebrity.
Earlier this week, China's internet was dominated by a public spat between Australian swimmer Mack Horton and China's Sun Yang. After defeating Sun to win a gold in the 400-m freestyle, Horton referred to Sun by saying that he did not have "time or respect for drug cheats," sparking anger from Chinese netizens and state media.
When asked about the incident, Fu said she was "almost mad to death" by Horton's "slander."
"I thought at the time if I can defeat the Australians, I would be pretty happy," she said. "But actually it has nothing to do with backstroke swimmers, I can't vent my anger at others."