Apple may be diving deeper into the health-care industry.
The company filed a patent application for a wearable device that can measure electrocardiographic (ECG) signals through a series of sensors, according to a filing published by the U.S. Patent and Trademark Office (USPTO) today (Aug.11). The application leaves the form of the device open ended—it could be a ring, a bracelet, a brooch, or something else—but its sole function is to monitor the heart.
The company has already identified health care as an area of big potential. Last year, it released ResearchKit, an open source software framework designed to help doctors and scientists gather data from participants using iPhone apps. And wearables like the Apple Watch are natural ways to collect a variety of information. But the patent application points to something more targeted and sophisticated.
Traditionally, ECG machines takes readings from multiple electronic nodes that display results that vary depending on the location of the recording in relation to the heart. Apple's design makes the placement of the device on the body irrelevant. To calibrate the device, users must undergo an "enrollment" process where readings are taken from different parts of the body before using the device. It can use those measurements to correct abnormalities resulting from the device's location on a person's body.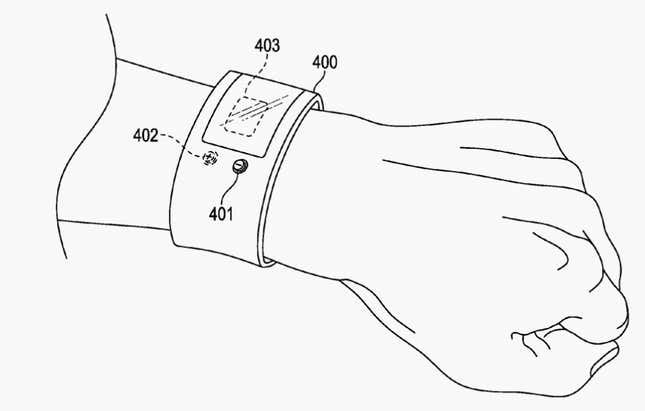 Rumors of the Cupertino giant creating a non-watch health-care wearable have already been circulating. In an interview with The Telegraph last year, CEO Tim Cook said didn't want to "put the [Apple] Watch through the Food and Drug Administration (FDA) process," but that he "wouldn't mind putting something adjacent to the watch through it," signaling the possibility of a device like the one in the patent filing.
Apple's dive into the medical industry has already shown promising signs. GlaxoSmithKline recently coming onboard Apple's ResearchKit platform to run a clinical study. If it can find the right applications, the health-care industry could be a big boost for Apple's wearables business, which so far has been far from a hit.
Like many companies, Apple regularly applies for patents for products that never get made. That might be good news for those who are overwhelmed by the Apple Watch simply monitoring their pulse.