After years of occupation by ISIL and a bloody months-long siege, civilians in the Syrian city of Manbij are finally free.
Fighters from the Syrian Democratic Forces (SDF) announced today, Aug. 12, that they had liberated the city's last ISIL-held neighborhoods, reports the BBC. Reuters photographer Rodi Said has captured emotional photos of Manbij residents being evacuated: women flipping up their veils, men getting their beards cut, and huge smiles.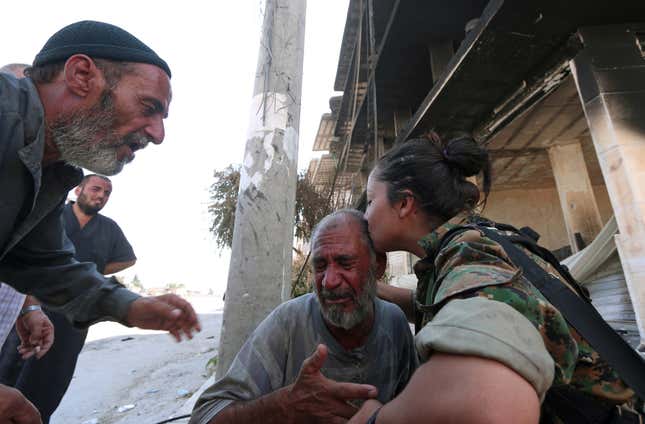 The SDF is a coalition of rebel groups that includes the Kurdish militia YPG. Its assault on the strategic city began May 31 and was supported by US-led airstrikes. According to the Syrian Observatory for Human Rights, at least 437 civilians have been killed, sparking concerns that US airstrikes targeted innocent people.
Manbij is strategically located in the north of Syria between the Turkish border, embattled Aleppo, and ISIL stronghold Raqqa. Aleppo's 2 million citizens are reportedly facing a humanitarian disaster.